July 18th, 2008 . by economistmom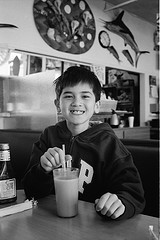 (photo of son Johnny, by daughter Emily)
The Wall Street Journal blog, "Real Time Economics", points to a new economic analysis that is very interesting to me–more from my "mom" perspective than from my "economist" perspective.  The NBER working paper on "The Lengthening of Childhood", by David Deming and Susan Dynarski, suggests that delaying the start of kindergarten might actually reduce overall human capital accumulation in the U.S., because, as WSJ blog paraphrases:
Kids who start school a year late have one year less schooling before they reach the age at which they're allowed to drop out, decreasing their average educational attainment and widening the gap in learning between rich and poor. (Low-income teenagers are more likely to drop out.) And those who do stay in school enter the labor force a year later — decreasing their average lifetime earnings as well as their contribution to Social Security.
I am one of those who "redshirted" a child from school–having chosen to delay my son's entry into kindergarten until he had turned 6 (in late July).  (The cut-off in Fairfax County, VA is September 30.)  Given my "mom" experience going through a decision process that was heavily influenced by my son's preschool teacher (who made the compelling case that my son was not emotionally ready having been the youngest in his preschool class and the youngest, and only boy, at home–and didn't I want to give him some chance of being a leader instead of a follower somewhere in his life?…), and then seeing the benefits of having given him that extra year (he's been a strong leader in school ever since), I have to think that the NBER analysis, at least as described by the WSJ above, is missing a couple important factors in the suggestion that delaying school is a bad thing:
It assumes the annual productivity of schooling for the kid is independent of the extra year of maturity (or other psychological benefit from being an "older" kid rather than a "younger" kid in one's grade)–so the kid might get one year less on a path that's otherwise the same.  I would argue that there's evidence (ok, at least my casual evidence) that a given amount of education provided to a more mature kid leads to a larger amount of "human capital" accumulated in that kid (higher quality "learning"), so that the human capital production function gets a sort of technology boost when kindergarten is delayed.
It assumes that the decreased years of schooling caused by drop out is caused by allowing the delay on the front end, rather than allowing the truncation on the back end.  In other words, if the problem is drop out, why can't the rules for minimum drop-out age be changed to correspond to a minimum number of years of school–so that kids who delay kindergarten until age 6 would not be legally permitted to drop out of school until the usual age plus one? 
Oh, I know I should read the full paper and all the other analyses by education experts before I leap to these conclusions, but like I said at the start, I'm talking more from my "mom" perspective than from my "economist" one here, and I need to get home to my redshirted son, who I'm sure will graduate from high school (and hopefully, even more schooling) and be a very productive worker some day–I'm convinced even more productive than had I started him in school a year earlier.