August 30th, 2008 . by economistmom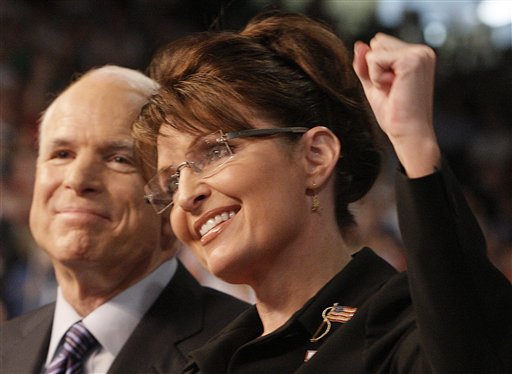 I just have to echo what Kiki McLean, a Hillary Clinton advisor, says about McCain's VP choice in today's Washington Post:
Women don't vote for women because they are women. Women have high expectations — and have always had to meet them…

The dramatic increase in female voters this year wasn't just about a woman being on the ballot. It was driven by an intense debate on a broad agenda of bread-and-butter issues and national security…
Yes, and even mid-40s, 20-years-married, working moms of several children don't vote for mid-40s, 20-years-married, working moms of several children because they're, you know…
That the choice would be considered a great one, for the reasoning given by Lisa Schiffren, Dan Quayle's speechwriter (see the same Washington Post article, toward the bottom…I can't even bring myself to cut and paste for fear someone will think I'm saying that, so you really must go read it), is proof enough that this choice isn't going to attract any voters who weren't already supporting McCain's candidacy…it just gives people like Dan Quayle's speechwriter something (shallow) to be "giddy" about.
Geez– please don't insult the intelligence of middle-aged working mothers that way!
***UPDATE, 9/1:  I am stunned… I just read the news about Sarah Palin's announcement that her 17-year-old daughter is five months pregnant.  (And that this was announced to "rebut the rumor" that the daughter was actually the mom of Sarah Palin's infant son?!!…)  That would make Palin a 44-year-old grandmother, as well as mom of a Down's syndrome infant, as well as mom to four other kids (one who is serving in Iraq), by inauguration day.  As a working mom with far less on my plate who nonetheless made the choice to leave the demands of a Capitol Hill job, I honestly don't know how Palin can possibly handle being VP–let alone being ready to step into the presidency at a moment's notice–unless she's really not going to be there very much for a family that obviously needs her. 
I wonder…Is this the kind of role model Dan Quayle's speechwriter, Lisa Schiffren, really wants for her daughters (and for herself)?  (I guess I'll need to go visit the momblog on WorkingMother.com about this…)***
***and UPDATE #2 (9/3):  see what "TrueNorthMom", Erin Kirkland–another working mom from the Working Mother blog, but one from ALASKA–has to say about Sarah Palin as the Republican's VP nominee.***