September 19th, 2008 . by economistmom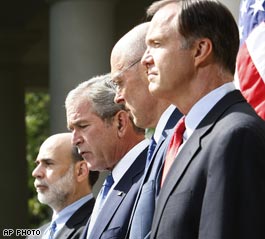 Have I been talking about reducing the federal budget deficit?  Well, never mind.  Secretary Paulson did not beat around "the bush" today about how this will impose a cost on all Americans (CNN-Money story):
Paulson said that federal action would target the mortgage-related "illiquid assets" that are burdening the finance industry.

"The federal government must implement a program to remove these illiquid assets that are weighing down our financial institutions and threatening our economy," said Paulson. "This troubled asset relief program must be properly designed and sufficiently large to have maximum impact."

The new program would cost hundreds of billions of dollars, according to Paulson.

"This has got to be big enough to make a real difference," he said.
I believe Secretary Paulson is right that doing nothing would have been far riskier to the American economy…
The ultimate taxpayer protection will be the stability this troubled asset relief program provides to our financial system, even as it will involve a significant investment of taxpayer dollars. I am convinced that this bold approach will cost American families far less than the alternative - a continuing series of financial institution failures and frozen credit markets unable to fund economic expansion.
…but the Administration is being less than crystal clear about the fact that the risk does not disappear–it just gets moved around.  What federal officials are proposing to do is to have the government take ownership of these "troubled assets" (as Secretary Paulson refers to them, emphasis added):
Many of the illiquid assets clogging our system today do not meet the regulatory requirements to be eligible for purchase by the GSEs or by the Treasury program.

I look forward to working with Congress to pass necessary legislation to remove these troubled assets from our financial system.
But where will the "trouble" in those "troubled assets" go?  There's lots of talk about the expectation that the government would eventually get a positive net return out of this deal.  But what exactly is the government taking ownership of here–i.e., how much are these "troubled assets" actually going to be worth when everything settles down?  I think they're sounding less than crystal clear because the answer in their minds is not at all clear.  This is not like the government bailout of Chrysler (in 1979), which eventually turned profitable because Chrysler was able to produce a tangible product that Americans wanted to buy at the time(minivans…note, I said wantED to buy).  (Note that David Leonhardt of the NYTimes argues that the Chrysler bailout may have nevertheless enabled the slow decline of the Detroit auto industry.)  But there is no tangible product in today's case and it seems to me no clear direction to head in producing a better "product."  (And if the government will on net turn a profit from taking over these financial companies, why didn't the private sector scoop it up first?)
Seems to me that policymakers have decided to swap risky private-market debt for an increase in (what we hope is) less-risky public-sector debt.  That was probably the short-term, risk-averse (prudent) thing to do, but it's certainly not without signficant risk to the longer-term health of the U.S. economy.