October 28th, 2008 . by economistmom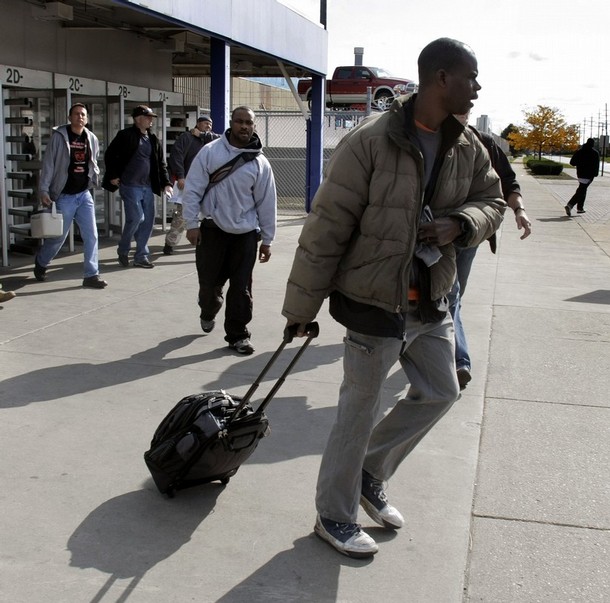 If you haven't heard, the Treasury Department is currently considering a plan to provide $5 billion to $10 billion in aid, ASAP, to GM to help finance its possible merger with Chrysler.  And yesterday, my high school sweetheart was offered $50,000, a car, and 6 months health coverage, to leave Chrysler and his management position at the Detroit-area (Warren) truck assembly plant.  (That would be some of his colleagues pictured above.)
Liz Wolgemuth on the U.S. News and World Report blog ("The Inside Job"), insightfully asks:  doesn't this mean we're using "tax dollars to fund layoffs?"
Well, being someone who's constantly got the "fiscal responsibility" angle on things, I'd edit that slightly to say yes, we're using future taxpayer dollars to fund layoffs–because we're talking about another deficit-financed rescue, after all.
There's something quite ironic and sad about "rescuing" an industry by providing it the cash flow that's needed to shrink it–for the federal government to effectively say they'll help these companies eliminate jobs, in the name of "fiscal stimulus" and for the cause of keeping the economy "alive."
This is an auto industry being forced to "live within its means"–with a little help from the government–by consolidating, downsizing, reprioritizing.  Because the industry for too long catered to our entire nation's living-beyond-our-means mentality, the "transformation" Detroit needs to survive in the longer run (and grow again) will come too late for many thousands of workers who are now losing their jobs.
A Wall Street Journal article by Jeffrey McCracken and John Stoll describes the ironically devastating "human toll" of this "rescue" and how the auto companies got so cash constrained–leaving the federal government as the only lender willing to fund a merger and the associated layoffs:
GM and Chrysler estimate that a combined entity would need $10 billion in new equity to lay off workers, close plants, integrate the two companies and provide liquidity, according to several people involved in the talks or briefed on them.

"Without external intervention, from consolidation or government assistance, we expect GM to reach its minimum cash position in under 12 months," Deutsche Bank auto analyst Rod Lache wrote last week. In an interview, Mr. Lache added that Chrysler is also running dangerously low on funds. "We believe Chrysler is in the same position. It's either August 2009 or December 2009 they run out. Both have a limited runway."…

The human toll of such a move could be high. The companies would slash duplicated functions from engineering to marketing. One internal estimate predicts at least 40,000 jobs could be cut from the roughly 166,000 people employed by the two companies in the U.S., Canada and Mexico.

GM's cash cushion has been eroding for some time. Each month, the company spends $1 billion more than it brings in. At that burn rate, GM could effectively run short of cash next summer, without even taking into account further sales declines.

The 100-year-old company has about $20 billion on hand today, but needs at least $11 billion to $14 billion of working capital at all times so it can keep paying its bills, GM has said. The company has been trying for months, without success, to raise at least $5 billion by selling assets, such as its Hummer brand, and by pledging unencumbered assets…

But lenders are reluctant to invest. GM debt, once considered the highest investment grade, has tumbled to low-rated, junk status. Many lenders approached to invest in a combined GM-Chrysler have also balked…

When Cerberus purchased Chrysler in the spring of 2007, the capital markets were at full throttle. The firm basically bought Chrysler for free, in exchange for taking on its considerable debt. Cerberus expected that once Chrysler was private, the fund could build a smaller, stronger company with the ready help of debt investors.

It hasn't turned out that way. In two years, Chrysler has fallen from third to fifth in U.S. auto sales. J.P. Morgan estimates it has $11 billion on hand. It uses $3 billion to $5 billion of that as working capital to meet payroll, pay vendors and pay other bills. Its monthly cash burn is estimated at $300 million to $400 million. That figure may grow as vehicle sales slow, suggesting that it could run out of money by late 2009. To conserve cash, Chrysler has halted certain new-product plans, a sign that it sees a deal with GM as the only path out.

The auto makers' huge obligations, meanwhile, are only growing as revenues and profits shrink. For decades, Detroit's Big Three have funded generous programs to take care of former workers and surviving spouses…
Obligations growing and revenues shrinking, needs rising and means falling…In this way the auto industry's woes are just another manifestation of the overextension of the entire U.S. economy.
And thus it is "depressing" (pun inadvertant) to think that if the federal government goes through with this "rescue," that it will immediately result in more lost jobs, not saved jobs (contrary to what we think short-term "fiscal stimulus" ought to do), and that at the same time being deficit financed, it will also shrink national saving (contrary as well to what we think we should do to encourage longer-term economic growth).
And how will we stimulate the economy in the short term this time around?  More "depressing" news today: consumer sentiment is at an "all-time" (in 41-year history) low.  We're no longer talking about encouraging folks to shop; that sounds almost ridiculous.  We're now talking about keeping folks from drowning by helping them hold onto their jobs.  How to keep up that short-term economic activity is a lot tougher to figure out, now juxtaposed with the longer-term economic forces that seem to be telling us–all over the place in our economy–to downsize rather than up-size.