October 23rd, 2008 . by economistmom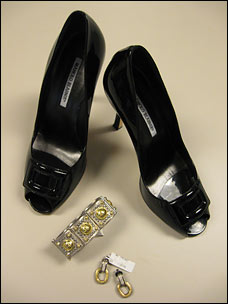 (So how much would you be willing to pay for these accessories?  Apparently these three items alone cost nearly $4000 at Neiman Marcus.)
I know, I know… why am I so late with the story on this, you know, $150,000 thing?  I've been on the road all day today and will have to backdate this a bit so it still counts as "today"… it's still today here in Chicago, after all…
Anyway, old (Wednesday) news, but fits into my "living within our means" theme (my home edition here).  Sarah Palin's living within her new-found, VP-candidate, RNC-sponsored means:
More than $130,000 of the charges used to outfit Ms. Palin and her family were initially footed by Jeff Larson, a prominent Republican consultant in St. Paul whose firm has been tied to the onslaught of negative robocalls about Mr. Obama from Mr. McCain's campaign. Mr. Larson was also the chief executive of the local host committee for the Republican National Convention, in Minneapolis-St. Paul.

Federal Election Commission records showed Mr. Larson was reimbursed by the Republican National Committee for charges at Saks Fifth Avenue, Neiman Marcus, Macy's, Barneys New York and Atelier New York, a men's clothing store…
Hmmm…  What does that suggest about how "mavericky" Palin would be with the federal budget?
The Washington Post's Reliable Source (Roxanne Roberts and Amy Argetsinger) knows how most of us working moms do our best to be "mavericky fashion plates."  (My personal wardrobe secrets:  Filene's Basement, Marshalls, and ebay… yes!)  I bet a lot of working moms are like me:  I never pay retail at the mall for my own clothes–only for my kids' clothes.