October 30th, 2008 . by economistmom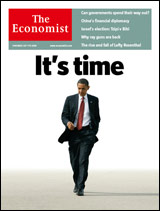 Today The Economist magazine endorsed Barack Obama for president.  From their "leader" in their print edition:
IT IS impossible to forecast how important any presidency will be. Back in 2000 America stood tall as the undisputed superpower, at peace with a generally admiring world. The main argument was over what to do with the federal government's huge budget surplus. Nobody foresaw the seismic events of the next eight years. When Americans go to the polls next week the mood will be very different. The United States is unhappy, divided and foundering both at home and abroad. Its self-belief and values are under attack.

For all the shortcomings of the campaign, both John McCain and Barack Obama offer hope of national redemption. Now America has to choose between them. The Economist does not have a vote, but if it did, it would cast it for Mr Obama. We do so wholeheartedly: the Democratic candidate has clearly shown that he offers the better chance of restoring America's self-confidence. But we acknowledge it is a gamble. Given Mr Obama's inexperience, the lack of clarity about some of his beliefs and the prospect of a stridently Democratic Congress, voting for him is a risk. Yet it is one America should take, given the steep road ahead.
Why not McCain?  Some of their reasoning:
[T]he Candidate McCain of the past six months has too often seemed the victim of political sorcery, his good features magically inverted, his bad ones exaggerated. The fiscal conservative who once tackled Mr Bush over his unaffordable tax cuts now proposes not just to keep the cuts, but to deepen them. The man who denounced the religious right as "agents of intolerance" now embraces theocratic culture warriors. The campaigner against ethanol subsidies (who had a better record on global warming than most Democrats) came out in favour of a petrol-tax holiday. It has not all disappeared: his support for free trade has never wavered. Yet rather than heading towards the centre after he won the nomination, Mr McCain moved to the right.

Meanwhile his temperament, always perhaps his weak spot, has been found wanting… on the great issue of the campaign, the financial crisis, he has seemed all at sea, emitting panic and indecision. Mr McCain has never been particularly interested in economics, but, unlike Mr Obama, he has made little effort to catch up or to bring in good advisers (Doug Holtz-Eakin being the impressive exception).

The choice of Sarah Palin epitomised the sloppiness…

Ironically, given that he first won over so many independents by speaking his mind, the case for Mr McCain comes down to a piece of artifice: vote for him on the assumption that he does not believe a word of what he has been saying. Once he reaches the White House, runs this argument, he will put Mrs Palin back in her box, throw away his unrealistic tax plan and begin negotiations with the Democratic Congress. That is plausible; but it is a long way from the convincing case that Mr McCain could have made. Had he become president in 2000 instead of Mr Bush, the world might have had fewer problems. But this time it is beset by problems, and Mr McCain has not proved that he knows how to deal with them.
And why Obama, although they have their worries about him?:
Mr Obama's star quality will be useful to him as president. But that alone is not enough to earn him the job. Charisma will not fix Medicare nor deal with Iran. Can he govern well?…

There is no getting around the fact that Mr Obama's résumé is thin for the world's biggest job. But the exceptionally assured way in which he has run his campaign is a considerable comfort. It is not just that he has more than held his own against Mr McCain in the debates. A man who started with no money and few supporters has out-thought, out-organised and out-fought the two mightiest machines in American politics—the Clintons and the conservative right.

Political fire, far from rattling Mr Obama, seems to bring out the best in him: the furore about his (admittedly ghastly) preacher prompted one of the most thoughtful speeches of the campaign. On the financial crisis his performance has been as assured as Mr McCain's has been febrile. He seems a quick learner and has built up an impressive team of advisers, drawing in seasoned hands like Paul Volcker, Robert Rubin and Larry Summers. Of course, Mr Obama will make mistakes; but this is a man who listens, learns and manages well…

Our main doubts about Mr Obama have to do with the damage a muddle-headed Democratic Congress might try to do to the economy…Worryingly, he has a poor record of defying his party's baronies, especially the unions… His advisers insist that Mr Obama is too clever to usher in a new age of over-regulation, that he will stop such nonsense getting out of Congress, that he is a political chameleon who would move to the centre in Washington. But the risk remains that on economic matters the centre that Mr Obama moves to would be that of his party, not that of the country as a whole…

[T]his cannot be another election where the choice is based merely on fear. In terms of painting a brighter future for America and the world, Mr Obama has produced the more compelling and detailed portrait. He has campaigned with more style, intelligence and discipline than his opponent. Whether he can fulfil his immense potential remains to be seen. But Mr Obama deserves the presidency.
Oh, and "The EconomistMom" endorses Obama, too–speaking only for herself, of course.  But you readers have surely figured that out by now.