October 8th, 2008 . by economistmom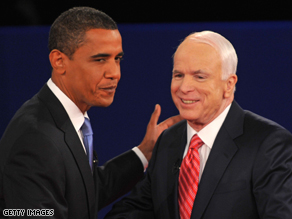 I was going to post lots of excerpts from the debate transcript that proved what wasn't news to me in last night's debate–in other words, quotes that support my post from yesterday, that McCain's economic platform hasn't budged an inch.  But that wouldn't be very interesting, as the words were hardly different from those we've heard before.
At the same time, I must acknowledge that Obama's economic platform hasn't really budged either.  I think what's really changed with the economic crisis is that Obama's general approach to the economy just makes a lot more sense relative to McCain's right now.  (What's changed is the backdrop, not the platform.)  And the other "silver lining" in this crisis (besides the biggie of everyone starting to realize the problem in our living beyond our means) is that the whole country seems to be paying a lot more attention to the real economic issues now.
What was news to me in last night's debate was that they both apparently consider Obama-supporter Warren Buffett a leading candidate for Treasury Secretary (emphasis added):
Brokaw: …Obviously the powers of the treasury secretary have been greatly expanded. The most powerful officer in the cabinet now. Hank Paulson says he won't stay on. Who do you have in mind to appoint to that very important post?

Sen. McCain?

McCain: Not you, Tom.

Brokaw: No, with good reason.

McCain: You know, that's a tough question and there's a lot of qualified Americans. But I think the first criteria, Tom, would have to be somebody who immediately Americans identify with, immediately say, we can trust that individual.

A supporter of Sen. Obama's is Warren Buffett [chairman of Berkshire Hathaway]. He has already weighed in and helped stabilize some of the difficulties in the markets and with companies and corporations, institutions today.

I like Meg Whitman [former CEO of eBay and current McCain campaign adviser], she knows what it's like to be out there in the marketplace. She knows how to create jobs. Meg Whitman was CEO of a company that started with 12 people and is now 1.3 million people in America make their living off eBay. Maybe somebody here has done a little business with them.

But the point is it's going to have to be somebody who inspires trust and confidence. Because the problem in America today to a large extent, Tom, is that we don't have trust and confidence in our institutions because of the corruption on Wall Street and the greed and excess and the cronyism in Washington, D.C.

Brokaw: All right. Sen. McCain — Sen. Obama, who do you have in mind for treasury secretary?

Obama: Well, Warren would be a pretty good choice — Warren Buffett, and I'm pleased to have his support. But there are other folks out there. The key is making sure that the next treasury secretary understands that it's not enough just to help those at the top.

Prosperity is not just going to trickle down. We've got to help the middle class…
So I have two questions: 
Had Senator McCain heard that

eBay

, the former company of his apparent 

#2

(?) choice for Treasury Secretary, had just

announced

a

cut

of 1,000 jobs (10% of its global workforce)?  and…

Does Senator McCain's first recommendation of (Obama supporter) Warren Buffett for the next Treasury Secretary perhaps signal that Senator McCain (himself) believes Senator Obama will win the election?
By the way…why do I not count McCain's "new proposal" to "order the Secretary of the Treasury to immediately buy up the bad home loan mortgages in America and renegotiate" (a plan McCain said would be "expensive") as evidence of a shift in his platform?  Because it's so totally inconsistent with the rest of McCain's economic philosophy, and reminds me so much of his proposal earlier this year for a gas tax holiday, that I can only conclude that the motivation and the level of thought that went into this "new proposal" are about the same.  I haven't read what others have said about this (second) surprise in last night's debate, so I wonder…  Is anyone taking it seriously–including McCain's own economic advisors? 
***UPDATE (10/9):  Today the Washington Post has an editorial and an article on the subject of McCain's new mortgage proposal.  So they're taking it seriously enough to write about it.