November 27th, 2008 . by economistmom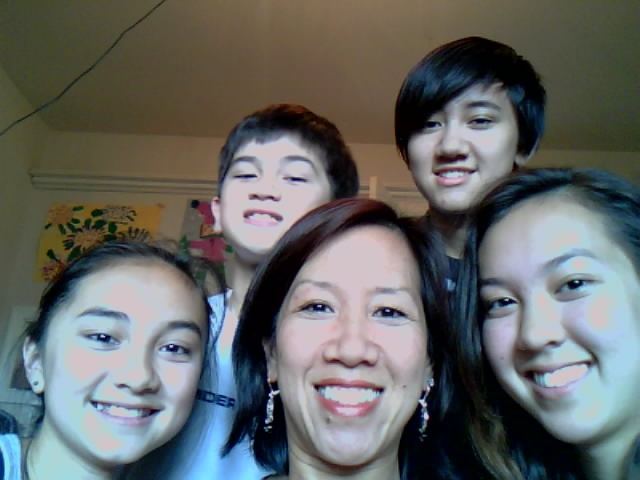 (That's a photo from earlier in the year, but I only recently added it to my "about" page… EconomistMom with her four kids, taken from the laptop.)
Happy Thanksgiving to my readers, especially to those reading tonight, who must be the loyalest readers of all…Don't you have much better things to do?!!  (Probably only a few of my family members anyway…)
I am so grateful for the joy this blog has brought me since I started it on Mother's Day.  It's given me the chance to both look inside myself and speak from my heart (yes, even economists have hearts and souls–remember what Peter Orszag said in his last blog as CBO director!), while expanding my reach and my connections to the world in ways I have never before accomplished.  I've both learned a lot more about myself and now better understand the perspectives of those who may disagree with some of the things I write.  Through this blog I've reconnected with many old friends who rediscovered me here, and I've made so many new friends.
I am thankful for having a great bunch of colleagues at the Concord Coalition, especially my very supportive boss, Bob Bixby, who is one of those very faithful readers (perhaps second only to my mom!) and who is always cheering me along (often in the middle of the night when he's online and reading).  I'm happy that my blogging on EconomistMom.com is still encouraged and supported by Concord even now that Concord has started its own blog, the TABulation.  I'm grateful for having such a fun job where I can talk about the merits of fiscal responsibility to very diverse groups of people–ranging from politicians to tax policy analysts, college students to blue-collar workers.
Thank you so much to all of you friends and family who inspire me to keep writing and often inspire what I write about here.  I am blessed to have you here in my little/big world!  I hope you are finding much in your own lives to be grateful for today.  Happy Thanksgiving!