November 21st, 2008 . by economistmom
I promised to post more on Concord's issue brief (released yesterday) on PAYGO (pay-as-you-go budgeting rules) today.  (I've been attending the annual conference of the National Tax Association in Philly starting today, going through Saturday, and today I figured out how to get a good internet connection from my hotel room–ah, all is well again!…)
A cut-and-paste of the conclusion of the PAYGO paper:
The Concord Coalition encourages President-elect Obama to pursue measures that strengthen budget enforcement even as he pursues short-term fiscal stimulus. Specifically, reinstituting statutory PAYGO–enforced through sequestration–would be a good beginning. Statutory PAYGO would put additional teeth into the PAYGO rule by establishing a mechanism that cannot be easily waived. In addition, because levels established in the Congressional Budget Resolution would be written into law, it would force the Executive branch to play an earlier role in the congressional budget process.

It is important to note that while PAYGO can provide positive incentives for fiscally responsible action, it is not a substitute for political will. No strategy for fiscal sustainability will succeed over the long-term unless we find a way to reduce projected costs, particularly for health care. Ideally, PAYGO should be enacted along with a new bipartisan fiscal policy agreement. As noted above, the original PAYGO law came out of the 1990 bipartisan budget negotiations between President George H.W. Bush and the Democratic Congress. Such a new agreement should contain policy measures and budget procedures to promote closure of the long-term gap projected to arise between spending and revenues. A realistic strategy will likely require some mix of spending reductions and revenue increases aimed at preventing total spending, taxes or debt from reaching levels that could reduce economic growth and future standards of living. Consistent with PAYGO, the agreement should explicitly waive timely, targeted and temporary stimulus measures.

Yet even in the absence of such an agreement, which may take some time to negotiate, enforcing PAYGO as it already exists — whether through spending cuts or tax increases — would send a signal that Washington has begun to take its long-term fiscal challenge seriously. Enforcing PAYGO would keep the long-term outlook from getting worse and also force an explicit acknowledgement of the obvious–someone always pays for increases in entitlement spending and tax cuts, even when deficit financed–if not within the five to 10-year budget window, then in the future through higher taxes or reduced federal programs, benefits and services.

If the current crisis in the financial sector has taught us anything, it is that over-reliance on escalating debt is not a sound strategy. The implication for Washington policy makers is that a realistic fiscal sustainability plan must be developed before a crisis hits. The immediate choice is whether to reclaim a measure of fiscal discipline through the budget process while a more substantive plan is negotiated, or to sit by while deficits drift higher in the absence of any procedural hurdles designed to rein them in. In Concord's view the choice is clear. We believe that reinstating long-term budget enforcement rules, such as PAYGO, remain the best step that can be taken immediately to stop digging the fiscal hole deeper.

Those who would use today's crisis as an excuse to jettison PAYGO are wrong. Short-term economic stimulus and a long-term commitment to PAYGO budgeting are compatible and necessary for the health of our economy.
So who are these people who believe in the fiscal discipline that the pay-as-you-go budgeting rules help encourage?
Well, Majority Leader Steny Hoyer (D-MD) for one.  In his Tuesday speech at the National Press Club (video here, and transcript here), he said:
We will continue to be committed to the principle of pay-as-you-go, as well. The reality, however, is that recovery legislation will raise the deficit in the short term. Fiscal hawk that I am, I still believe that that is the right course, because a wide consensus of economists tells us that deficit spending is both the way out of recession like this one and the way to prevent even more catastrophic decline.

In the long run, fiscal responsibility can and must be a watchword of our majority. For eight years, the administration lived by the proposition summed up by Vice President Cheney when he said, "Reagan proved deficits don't matter."

Businesses, consumers pursued that siren song to the brink of financial destruction, and some, of course, have gone over that brink. We are now experiencing the stark, painful reality that debt does, indeed, matter.

I've always believed that fiscal responsibility is at heart a moral proposition. It means that we do not indebt our children to finance our own immediate demands and desires.

It means that we must pay for what we buy, but more than that, we must buy the right things. Wise investments will grow our economy, guard our national security, and protect the health of our people.

Smart spending can help us get back to long-term fiscal health. Spending wisely today can save us money tomorrow. That is why our country needs far-reaching proposals, even in this recession.

In the broad sense, fiscal responsibility should be at the core of our entire governing philosophy. On energy, for instance, a fiscally responsible strategy should invest in new technologies to bring the price of energy down in the long term, because there is nothing more short-sided than acting as if our foreign oil addiction is a problem only when gas costs more than $3 a gallon or only during on oil shortage or only over the summer.
And here are a couple photos from last night's annual dinner of the Concord Coalition in NYC, of more people who support PAYGO rules and fiscal responsibility more generally… everyone from Pete Peterson (pictured with Diane/EconomistMom):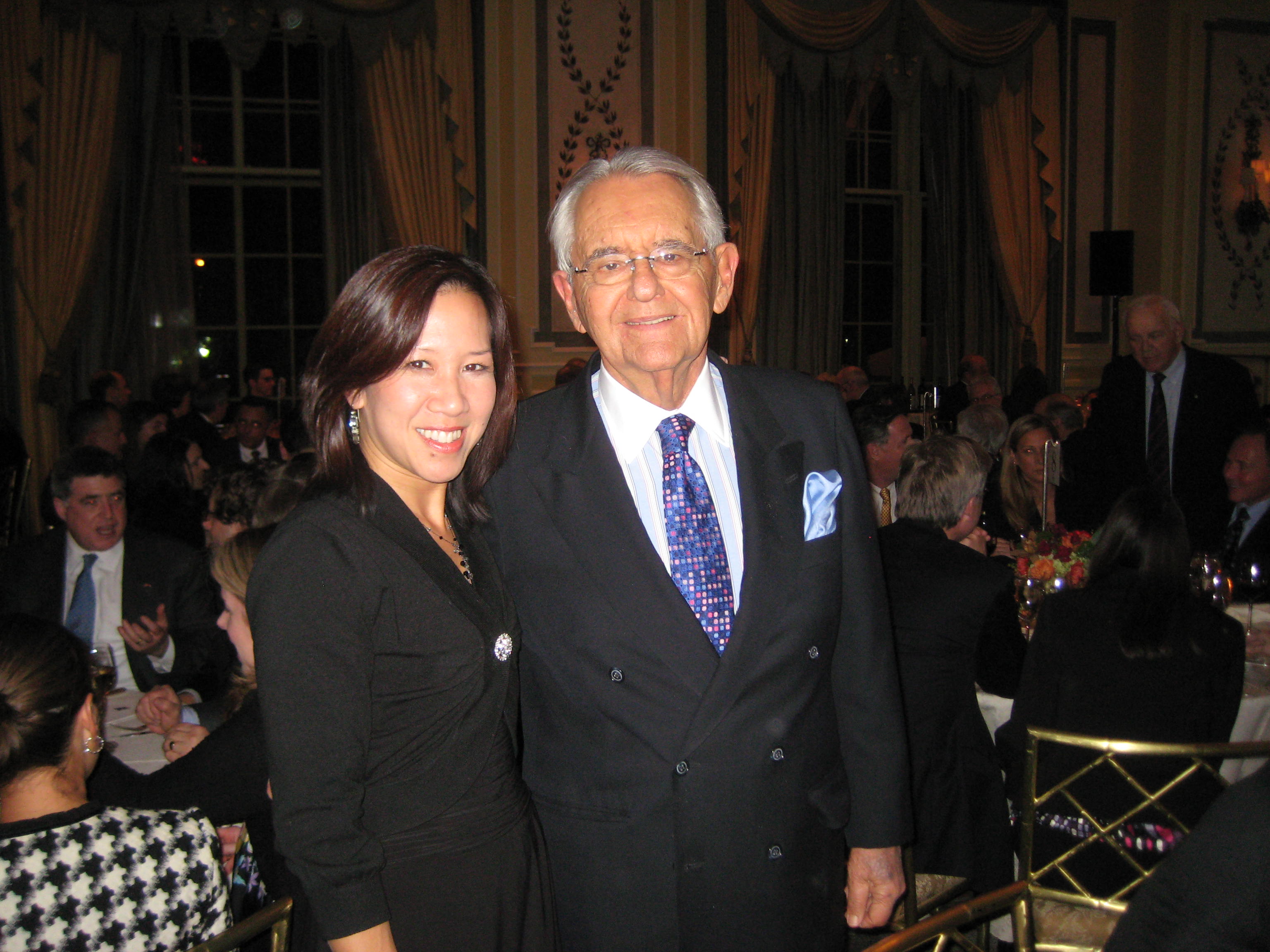 …to some of the young people of [link CORRECTED Fri. 11/21!:] Concerned Youth of America (with not-young me in center, and Concord's Chrissy Hovde on R):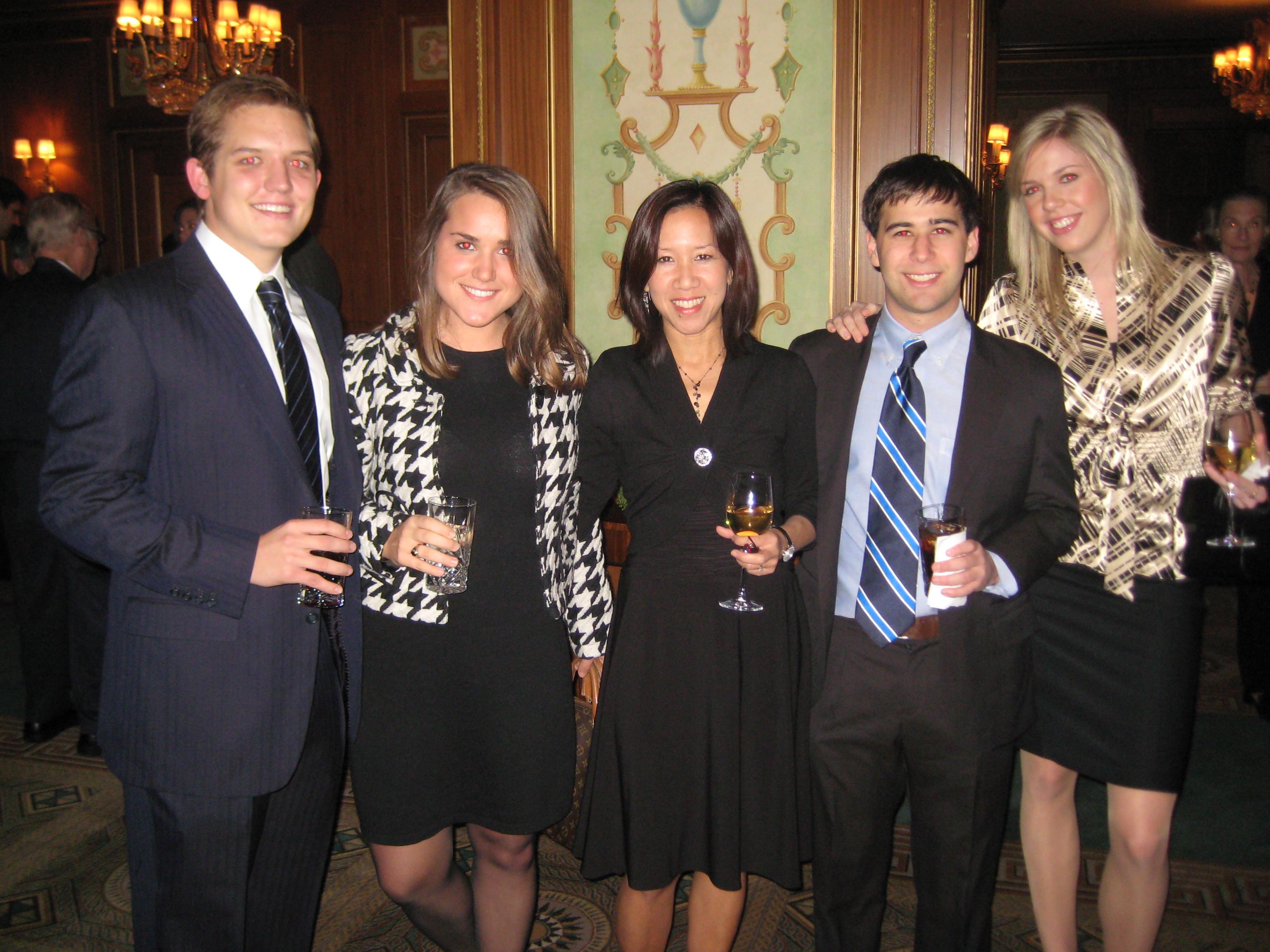 (L to R above:  Mike Tully, Caroline Matthews, EconomistMom/Diane, Yoni Gruskin, Chrissy Hovde)