December 19th, 2008 . by economistmom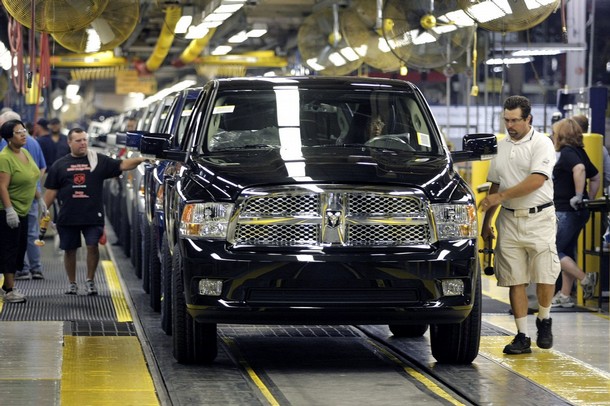 Today the Bush Administration came through with TARP funds for the auto industry (intended to prevent a "disorderly bankruptcy"), just as Chrysler closes its last day of production for at least a month.  Now we have to hope that despite the bad timing of the plant shutdowns (coming just before the holidays), that 2009 will be a happier year for Chrysler and the rest of the Detroit auto industry.  Of course, I have more personal reasons for hoping so, but if this federal assistance is given and received intelligently, I believe that it will help make the entire country (entire economy) happier in 2009.
The Detroit Free Press' Mark Phelan seems to have the right ideas when it comes to how the automakers can intelligently respond to this aid package and prove themselves to the rest of the American public (note that the Free Press continues to avoid the term "bailout"–in contrast to the DC papers):
The $17.4-billion lifeline the federal government threw today is the best chance General Motors Corp., Chrysler LLC and Ford Motor Co. will ever have to regain the American people's trust and reshape their business models for long-term profit and success.

First and foremost, they must get the vehicles right. Every new model they introduce must be a fuel-efficiency leader for its class.

Second, they must build great small cars. Cars that don't just match, but exceed, the quality, fuel economy and flair of models like the Honda Civic, Nissan Versa and Mini Cooper. Then they must demonstrate that 40 m.p.g midsize sedans and 50 m.p.g. subcompacts are just around the corner, and that when they come into view, they'll be gorgeous.

To win back American buyers' respect, the automakers must show the aid package was a sound investment, not a handout…
In the case of Chyrsler, Mark Phelan explains it's not so easy to follow the "build great small cars" directive, but they can still respond intelligently:
Chrysler faces the toughest task. It doesn't have the technology and resources to produce small, technically advanced vehicles like those coming from GM and Ford. Chrysler will offer the quirky and efficient little Dodge Hornet, but that car was engineered and produced by Nissan in Japan.

The Hornet may have the looks and features to please buyers, but it won't make the case that the aid supported American technology and manufacturing.

Chrysler must use the breathing room the loans provide either to form more alliances with other companies, or – as appears more likely – find a buyer or partner that will provide the technology for small vehicles and let Chrysler develop and build the models it does superbly: minivans, Jeeps, the Chrysler 300 and Dodge Charger and Ram…
Yep, the smart response is for the auto industry to immediately "downsize" and "streamline" to produce only the vehicles that people apparently want to buy (and not a single SUV or large sedan more), while figuring out (with unusual-for-Detroit foresight) how to "transform" to the industry that will be able to produce the vehicles that we expect people will want to buy in the future.  I think it's a good time for us all to be hopeful.
And speaking of hope and gratitude and good sentiment in general, here's a little "thank you note" from Detroit to the President, written by the Free Press' Tom Walsh:
Detroit says thank you, Mr. President.

And a Merry Christmas and Happy New Year to you, too.

President's George W. Bush's 9 a.m. holiday gift basket for Detroit automakers was $17.4 billion in short-term bridge loans to help General Motors Corp. and Chrysler LLC survive to see 2009.

The gift basket comes with lots of stern words about concessions, viability plans and possible bankruptcy in the future. But there's little in the way of enforcement mechanisms. It will be up to the incoming Obama administration to set the strict terms and timetable for the profound changes to come for Detroit's automakers, workers, suppliers, dealers and debtors.

This is not cause for wild celebration of the party-like-it's-1999 variety.

Rather, it's an occasion for thanks and relief that GM and Chrysler will still be around to slog through the messy, difficult times that 2009 will bring.

And for now, that's good enough.

Whew!
So I am hopeful for a Happy (or at least happier) New Year for Chrysler and the rest of the Detroit auto industry.  And I have a lot more optimism today than I did yesterday that in the New Year I'll get to tour that Chrysler truck plant after all.