December 14th, 2008 . by economistmom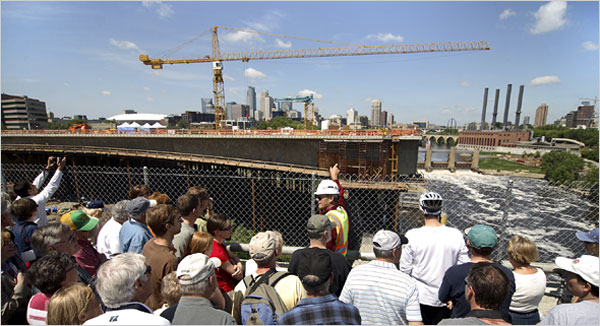 photo of construction of new bridge in Minneapolis, from a New York Times story earlier this year
This week's Economist magazine, and this morning's (Sunday) Washington Post both discuss whether it's possible to do massive amounts of infrastructure spending both promptly (for stimulus/recovery) and wisely (for longer-term economic growth).  Can "quick and easy" also be "smart" from a "transform-the-economy" perspective?  From the editorial column in the Economist:
Done correctly, a big public-works programme can do two valuable things at once: deliver a useful stimulus and at the same time boost the economy's long-run rate of growth…

The danger comes when these two objectives conflict. Given that stimulus is likely to be regarded as the primary aim, a premium will tend to be placed on actions that yield the most rapid results. America's governors are already falling over each other to submit their lists of "shovel-ready" projects to Washington, DC. But quick and easy is not necessarily good.

The federal government is not good at discriminating between infrastructure schemes. Too much cash has gone into encouraging sprawl or keeping senators from small states happy with showy projects; too little into building things that are harder to get approved but encourage economic growth or control congestion, such as light railways or road-rail freight systems. Obviously each project should be measured on its merits. But a good broad test will be where the money goes. The 100 biggest metropolitan areas account for 65% of America's population and 75% of its output. That is where the infrastructure is needed. But if "bridges to nowhere" start springing up in the boondocks, it will probably be money wasted.
And this article in the same issue of the Economist magazine explains why just throwing more money to the states for infrastructure projects is not likely to bring much "change" and "transformation" to what we build and how we do it:
The greater problem [with infrastructure spending, above even lack of funding] is the lack of a strategy. No federal office oversees spending on infrastructure. Congressmen appropriate money for individual projects, a few of which are ludicrous (Alaska's "bridge to nowhere") and most of which bear no relation to each other. Cash for roads is given to states with few strings attached. "It is as close to a blank cheque as the federal government comes to writing," says Robert Puentes of the Brookings Institution, a think-tank…

The lack of federal cash has…provoked states to think boldly about how to manage demand and recoup infrastructure investments. There is growing interest in public-private partnerships, although America still lags well behind Europe. Oddly, the corruption-tainted state of Illinois has been unusually forward-looking. In 2005 Chicago became the first city to lease a toll road to a private company.

So a wiser approach to public works is slowly taking shape. Unfortunately, it is now in danger of being washed away by a torrent of money. Speed in spending is prized above all; but this is no way to build something that lasts as long as infrastructure. 
And today's front-page story in the Washington Post shares this worry:
Most of the infrastructure spending being proposed for the massive stimulus package that Obama and congressional Democrats are readying, however, is not exactly the stuff of history, but destined for routine projects that have been on the to-do lists of state highway departments for years. Oklahoma wants to repave stretches of Interstates 35 and 40 and build "cable barriers" to keep wayward cars from crossing medians. New Jersey wants to repaint 88 bridges and restore Route 35 from Toms River to Mantoloking. Scottsdale, Ariz., wants to widen 1.5 miles of Scottsdale Road.

On the campaign trail, Obama said he would "rebuild America" with an "infrastructure bank" run by a new board that would award $60 billion over a decade to projects such as high-speed rail to take the country in a more energy-efficient direction. But the crumbling economy, while giving impetus to big spending plans, has also put a new emphasis on projects that can be started immediately — "use it or lose it," Obama said last week — and created a clear tension between the need to create jobs fast and the desire for a lasting legacy.

"It doesn't have the power to stir men's souls," said David Goldberg of Smart Growth America. "Repair and maintenance are good. We need to make sure we're building bridges that stand, not bridges to nowhere. But to gild the lily . . . where we're resurfacing pieces of road that aren't that critical, just to be able to say we spent the money, is not what we're after."

Minneapolis Mayor R.T. Rybak is proud that his city was able to quickly rebuild the Interstate 35 bridge that collapsed into the Mississippi River in 2007 while making sure to include capacity for a future transit line on it. But he worries that many of the road and bridge upgrades around the country will not be done in a similarly farsighted way, given the time pressures.

"The quickest things we can do may not be the ones that have the most significant long-term impact on the green economy," he said. "Unless we push a transit investment, this will end up being a stimulus package that rebalances our transportation strategy toward roads and away from [what] we need to get off our addiction to oil."

Mayors say there would be a better chance for a long-term impact if the money were focused on metropolitan areas where investments could make the most difference in reducing congestion and lessening dependence on cars. They doubt that will happen if infrastructure funding goes directly to state capitals.
And meanwhile, what to do about the Big Three automakers still hangs over us, and this week's Economist also points out the uniqueness of the Detroit situation, compared with other parts of the country that also produce automobiles:
Michigan remains the most dependent on the Big Three, even more so than the BEA's numbers suggest. The BEA's classification does not include headquarters and research facilities, most of which are clustered in the state, according to Donald Grimes, an economist at the University of Michigan. The BEA also groups together foreign and domestic carmakers. Ohio and Indiana have lured more foreign carmakers than their northern neighbour. The day before Rick Wagoner, GM's chief executive, first visited Congress with his hand out, Indiana's governor applauded the dedication of a new Honda factory.

Michigan, by contrast, has risen and fallen with the fortunes of the Big Three. The state's concentration of Big Three workers is 12 times the national average, explains Mr Grimes. This year's annual forecast from the University of Michigan charts how the state gained almost 800,000 jobs between 1991 and 2000, and then proceeded to lose more than half of them, 415,000, from 2000 to 2007. A main reason, according to the report, is that the firms' car sales fell from 11.5m units in 1999 to 8.1m in 2007.

The outlook remains dismal. The report predicts that Michigan will have a net job loss of 674,000 from 2000 to 2010. The university's economists have long made a plaintive request to their state: diversify. That plea is suddenly more urgent.
So could at least part of the infrastructure spending we're talking about do a thoughtful job of putting Detroit autoworkers back to work (as quickly but as thoughtfully as possible) while helping Detroit diversify and transform?  And could we repeat that strategy over and over again, in all of the infrastructure spending we pursue all over the country over the next couple years?  Instead of just digging deeper holes and building "bridges to nowhere," could we build them to a better place?