December 6th, 2008 . by economistmom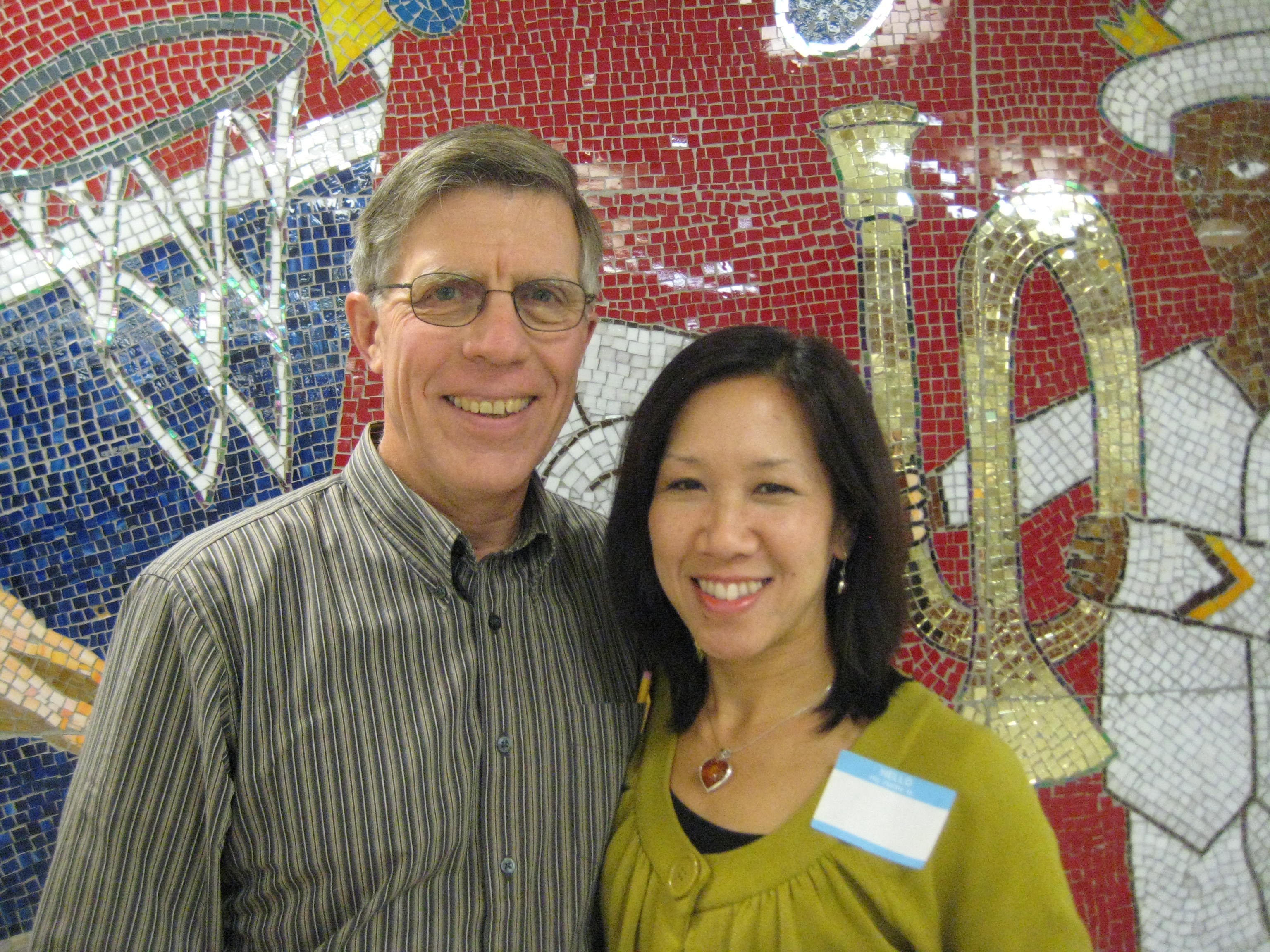 North Farmington High School's Mike Horner with former student Diane Lim Rogers (EconomistMom)
I am catching up this morning (Saturday) before flying back to DC this afternoon, including this post that really was "due" (according to self-imposed deadlines) last night.  But I had a busy day, coming off a busy Thursday evening with a fun I.O.U.S.A. event on the University of Michigan campus (which went well although we did not pack the house as I had hoped we would…gee, college students have better ways to spend a Thursday evening?!).  Special thanks to U of M's Professor Joel Slemrod (head of the Office of Tax Policy Research) and Mary Ceccanese (Joel's long-time assistant), and Concerned Youth of America's Executive Director Yoni Gruskin and U of M chapter-head David Rogers, for helping me put on the event.
I really combined nostalgia with business on this trip.  Thursday evening, my college roommate and very good friend showed up to see the movie along with two of her children–her youngest and her oldest.  Her youngest is a high schooler, and her oldest is a senior at the University this year!  Friday morning I visited one of my closest high school girlfriends, then spoke with students the U's Ford School of Public Policy about careers in Washington.  Friday afternoon I drove out to my high school, North Farmington High School (NFHS) in Farmington Hills, to show I.O.U.S.A. to teacher Jim Demko's history class, and to meet up with my math teacher, Mike Horner.  Yes!  My math teacher (my favorite high school teacher) is still teaching at NFHS and seems just as young and energetic as when he taught me 30 and 30+ years ago!  That's me and "Mr. Horner" in the photo up top.
I also got to meet NFHS's Principal, Rick Jones, who just happens to be Michigan "Principal of the Year"–appropriately commended for the innovative programs he has brought to the school, the enthusiasm he exudes in his job on a daily basis, and the inspiration and encouragement he provides to his faculty, staff, and students.  Here's a photo from one of those linked stories on Rick, of Rick and student Sarah Awad showing off the stickers for Darfur they have on their phones: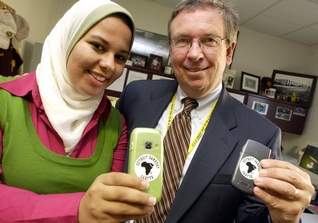 I witnessed Rick's qualities first hand yesterday as Rick took me and my high school sweetheart (my good friend who works for Chrysler)–with Mike Horner–through a very detailed tour of the school.  Rick was so generous with his time and so obviously proud of the school.  Wow–have things changed in 30 years, not just in the larger scale and higher quality of the school facilities, but also in the much-increased diversity of the student and staff population (when I was one of maybe three or four Asian-American students in the whole school).  And there were even a few other staff/faculty besides Mr. Horner who had been around 30 years ago and who still remembered me and my friend.
And last night I got to visit with my sister and her family, and caught up with all the news from DC on the automakers that I had missed yesterday having been too much on the road here in MI.  I got to hear my sister, brother-in-law, and friend talk about the necessity of federal aid to automakers from their inside-the-industry perspective, and saw yesterday's issue of the Detroit Free Press with the special editorial section/open letter to Congress.  And last night finally hearing about the terrible jobs report (with more than 500K jobs lost, unemployment up to 6.7 percent, and the trends particularly bad in the auto manufacturing and production-worker categories), I was not surprised to hear that Congress is softening to the automakers' plea:
NEW YORK (CNNMoney.com) — Congressional Democrats and the Bush White House have reached an agreement in principle on providing stopgap support for the U.S. auto industry that would keep the most troubled companies out of bankruptcy court at least through the end of March, according to congressional and industry sources.

The break came Friday evening when House Speaker Nancy Pelosi backed off her opposition to using funds from a fuel efficiency research program for a bailout, two Congressional officials told CNN Friday…

[B]oth Pelosi and Senate Majority Leader Harry Reid issued statements saying they expected to call the lame duck Congress back into session for a vote on help for the auto industry.

As recently as Thursday, neither Pelosi nor Reid would commit to holding the vote the automakers say they need in the coming two weeks. But the Labor Department jobs report early Friday, which showed 533,000 jobs lost in the U.S. economy in November alone, coupled with a better reception on Capitol Hill for the automakers CEOs at hearings Thursday and Friday, tipped the leaders to planning for a vote.

"Today's announcement of major job losses and findings from Congressional hearings from the last two days make it clear that Congress must work on a bipartisan basis to provide short-term and limited assistance to the automobile industry while it undertakes major restructuring," said Pelosi…

Pelosi and other leading Democrats, including House Financial Services Committee Chairman Barney Frank and Senate Banking Committee Chairman Chris Dodd have argued as recently as this week that the Treasury Department should provide help for the automakers out of the $700 billion set aside to help banks and Wall Street firms in October, the so called Troubled Asset Relief Program or TARP.

But the Bush administration has been strongly opposed to using TARP to help the automakers. And all but $20 billion of the first $350 billion of those funds have already been allocated to the nation's banks, and additional Congressional approval is needed before Treasury can tap into the other $350 billion set aside for that program.

Pelosi reversed herself because November's devastating jobs report "changed everything," one congressional official said…
So it looks like my professional and personal lives will continue to intermingle for some time in the future, as the federal government's fiscal outlook and the Detroit auto industry's viability are likely to be somewhat interdependent for quite awhile.  My Chrysler friend promises me that if he still has his job at Chrysler the next time I come to Michigan, that he will take me on a tour of the Warren truck assembly plant so that I can see first hand what the federal government has invested in.