February 8th, 2009 . by economistmom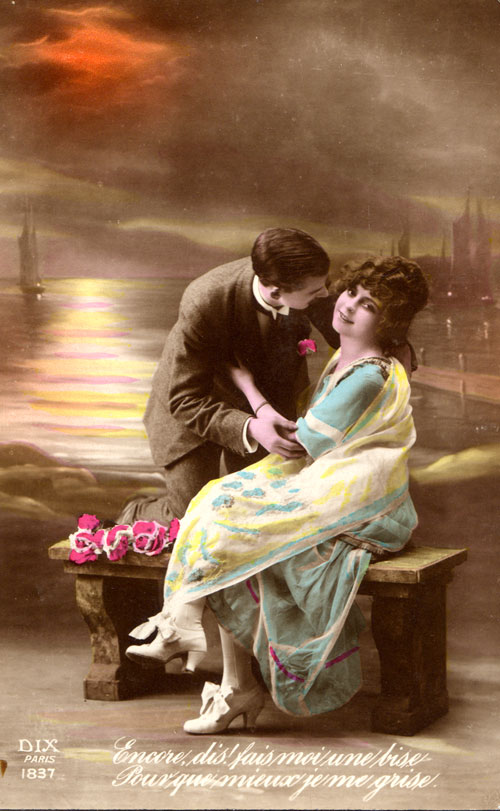 Today conservative-leaning economist Kevin Hassett advises on romance in the Washington Post.  Yes!  (And I thought that his writing about polar bears was unusual!)
I absolutely love Kevin's column, focused on the rituals of finding one's "true love"–because his bottom line (as I read it) is that constraints matter in forcing us humans to make the best choices…which reminds me about fiscal policy debates, of course.
First, Kevin explains how the traditional way people find their mate, with men doing the courting (passing), and women doing the accepting (receiving) probably works out better for the men than the women:
A matching game that proceeds with men signaling their interest and women choosing from among their suitors seems as though it gives women the power. But in fact, it does the reverse. Since each man proposes to the women starting with his most favorite and continuing through lesser choices, he is eventually matched with the woman who is his most favorite among the set of all women who would have him. The opposite is true for the women, whose most favorite men may not ever even propose to them.
The problem with this traditional approach is that the women don't get a chance to "signal" who those "most favorite men" are.  (Or as an (unromantic?) economist might put it, the "prices" women are willing to pay for these men are not revealed, because the women are not allowed to "bid.")
Then Kevin explains how this applies to modern-day matchups:
A well known example in the economics community illustrates the function of such signals. Muriel Niederle is a renowned game theorist at Stanford. The dating Web site Cupid.com recently asked her to help solve a common problem: Women were being inundated by offers from men, which made it difficult for them to find good matches.

Niederle offered up a solution: Cupid.com should give each man two electronic roses per month to send to two women of his choice, along with an introductory note. Since the men were only allowed to send two roses, women found that they were choosing from a much better and smaller pool of candidates. Cupid.com chief executive Eric Straus told the Wall Street Journal that this approach improved a suitor's chances of success by 35 percent. This simple insight, of course, only replicates in electronic form the ritual that males of many species have followed since the dawn of time. A costly gift is a valuable signal.
In other words, constraints matter.  They force us humans to figure out and signal what's most valuable to us.  They narrow down our choices so that we're more likely to come up the best options–our best match.  On Cupid.com "paring down" is a better strategy for finding one's "true love" than "piling on."  This, in my (economist) mind, applies to fiscal policy decisions, too…
And Kevin even concludes with a policy prescription:
Which brings us to Valentine's Day.

When I was very young, it was the practice at school for each child to give a valentine to all his classmates. Since everyone received a valentine, they provided no signal. Given our age, that was irrefutably a good thing. As we grew older, valentines dwindled and disappeared. As adults, it seems that most people who receive valentines have already found their matches.

But if you consider how difficult matching is, then you have to conclude that Valentine's Day has become an enormous missed opportunity. People have an almost impossible task in finding a mate. Society can do a better job of providing opportunities for them to signal interest in one another. We can start with Feb. 14. If every unattached person selected a few individuals they might be interested in and sent them a valentine, the literature suggests that it would significantly improve the quality of matches, just as a simple electronic rose launched thousands of Cupid's online arrows.

In addition to smoothing the matching process, a Valentine's Day revival would have a second effect. If both sexes signaled equally, then the whole process would no longer be slanted in favor of men…

Valentine's Day is next Saturday. Get moving. You still have time to send a few valentines.
I have a feeling that Kevin might actually encourage an unusual number of economists to unusually send an unusual (but selective) number of valentines this year.  How romantic!