May 23rd, 2009 . by economistmom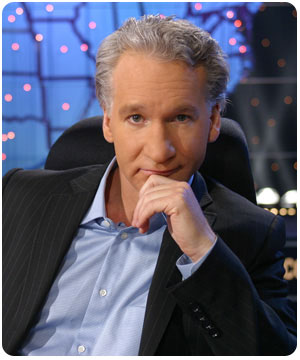 Parts of comedian Bill Maher's LA Times op-ed are a little inappropriate for EconomistMom's website, but there's enough I can quote here that shows Bill's perspective is not really that different from mine.  (Thanks, Brooks, for pointing this out to me.)  Bill's focus and motivation for the column begins with California's fiscal woes, but he's really explaining, more generally, his principle of why "superheroes can't save" us and how we are all the "villains":
You see, our state is designed to be ungovernable because we govern by ballot initiative, and we only write two kinds of them: "Spend money on things I like" and "Don't raise my taxes." More money for teachers and firefighters? Check "yes"! High-speed rail? "Cooool!" Drug treatment for former child actors? "Sure, why not?" But don't even think of taxing me for any of it.

That's not an answer! Newt Gingrich had it right when he said, "People don't elect presidents who tell them to sacrifice. They elect presidents who solve problems for them so they don't have to sacrifice."

Right, like Obama should solve global warming by working a little harder in his secret White House lab and coming up with a car that runs on seawater and emits gold doubloons. Someone who magically gives you everything and asks nothing in return? Bernie Madoff tried that plan; it didn't work.

This is why our founders wanted a representative democracy, because they knew that if you give the average guy the chance, he'll vote for a fantasy world with no taxes and free beer.

California used to be like the rest of the country, following the instructions in the Constitution and everything. But then we chucked that, and now our state is governed not by elected representatives but by special-interest people standing in front of the supermarket with clipboards asking, "Would you like to sign a petition to cut your taxes?" And then that becomes law. Proposition 14C: Two weeks paid leave for hangovers and universal teeth whitening, paid for by Central Valley cow gas. "Vote 'yes' on gain, 'no' on pain."

So the state will probably go bankrupt. It's sad that we'll be closing the schools, but you'll want to keep the kids at home anyway, because we're closing all the prisons and letting all the rapists out.
That's a lot more entertaining than how I usually put it.  Bill would probably agree with me that what we really need for fiscal responsibility is a benevolent dictatorship–forget this representative democracy stuff.  (Of course, Bill would probably suggest he should be anointed that benevolent dictator.)