June 3rd, 2009 . by economistmom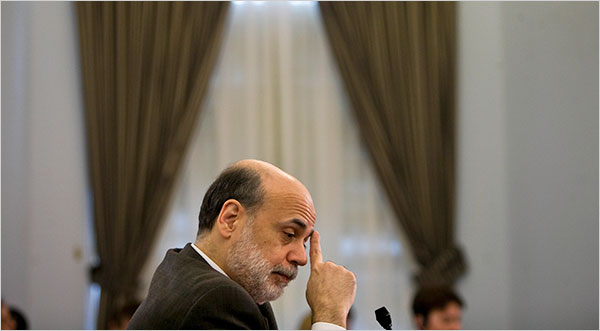 Wow– just yesterday Stan Collender wrote (in Roll Call) that "It's Time to Start Talking About the Budget Deficit."  And today Fed Chairman Ben Bernanke did just that in his testimony before the House Budget Committee:
The increases in spending and reductions in taxes associated with the fiscal package and the financial stabilization program, along with the losses in revenues and increases in income-support payments associated with the weak economy, will widen the federal budget deficit substantially this year…the ratio of federal debt held by the public to nominal GDP is likely to move up from about 40 percent before the onset of the financial crisis to about 70 percent in 2011. These developments would leave the debt-to-GDP ratio at its highest level since the early 1950s…

[E]ven as we take steps to address the recession and threats to financial stability, maintaining the confidence of the financial markets requires that we, as a nation, begin planning now for the restoration of fiscal balance. Prompt attention to questions of fiscal sustainability is particularly critical because of the coming budgetary and economic challenges associated with the retirement of the baby-boom generation and continued increases in medical costs…With the ratio of debt to GDP already elevated, we will not be able to continue borrowing indefinitely to meet these demands.

Addressing the country's fiscal problems will require a willingness to make difficult choices. In the end, the fundamental decision that the Congress, the Administration, and the American people must confront is how large a share of the nation's economic resources to devote to federal government programs, including entitlement programs. Crucially, whatever size of government is chosen, tax rates must ultimately be set at a level sufficient to achieve an appropriate balance of spending and revenues in the long run…

Unless we demonstrate a strong commitment to fiscal sustainability in the longer term, we will have neither financial stability nor healthy economic growth.
Way to go, Stan!