July 16th, 2009 . by economistmom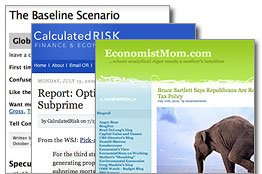 I'm so thrilled and honored that the Wall Street Journal featured my blog as a "Top 25″ economics blog.  (And the graphic above, with mine on top(!), is what shows up when you visit the Real Time Economics WSJ blog today.)  My readership is way lower than the other blogs cited, but a big "thank you" to my small but devoted (and often highly-influential) following, which obviously includes some reporters at the WSJ.
Back to fiscal policy issues later today…I think I'm enjoying a little basking for now.