August 26th, 2009 . by economistmom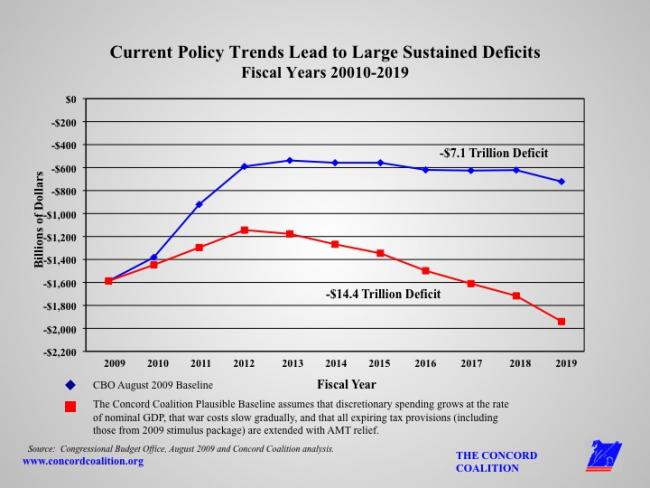 A section in the summary of the Administration's Mid-Session Review discusses the "long-term fiscal challenge"–using it to motivate health care care reform, while acknowledging that the policy work shouldn't fall solely on health care reform or we'll surely fall short (my emphasis added):
This [long-term fiscal challenge] is why the President is committed to reforming the health insurance system this year. The Mid-Session Review identifies a total of $954 billion over 10 years to pay for health reform, about two-thirds from savings in Medicare and Medicaid and one-third from revenue measures. The Administration is committed to passing health insurance reform that is deficit neutral over the next 10 years and that is on a stable trajectory as the decade ends…

Although health care is at the core of the country's long-term fiscal problem, the fiscal situation will demand more action once the economic recovery is fully underway. That is why the President is committed to addressing the shortfall in the Social Security system and the other important factors affecting the long-term fiscal situation.
It reminds me a lot of Secretary Geithner's "other things" from a few weeks ago.  Why does the Administration have such a hard time saying "taxes"?
The fact is that those taxes are the most tangible policy the Administration can grab onto now.  The "Concord Plausible Baseline" we released yesterday is intended to bridge the gap between the policies baked into current law and those that could (quite) "plausibly" be put in place in the future.  But that's key:  they could be put in place, but they don't have to be….because they're not law yet.  CBO's current-law baseline shows a 10-year deficit of $7.137 trillion.  Concord's plausible baseline shows a 10-year deficit of $14.447 trillion–more than double.  But if you decompose the bridge to the plausible baseline between adjustments for possible future tax cuts and those for possible future spending , assigning the debt service (interest cost) burden of the tax cuts to the revenue side of the policy ledger, here's how it divides up:
Of the $7.310 trillion added to the CBO baseline to get to the Concord Plausible Baseline, $6.160 trillion (84 percent) is attributable to "plausible" future tax cuts (beyond current-law tax cuts).
Only $1.150 trillion (16 percent) is attributable to "plausible" future spending (beyond current-law (CBO-baseline-projected) spending).
So those "factors" and "things" are pretty big factors and things, and I hope the Administration will start getting more assertive about them–you know, show me how strong and powerful they can be.