August 15th, 2009 . by economistmom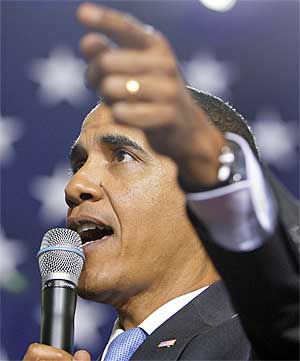 I watched President Obama's town hall meeting on health care today.  The best parts were in the Q & A, where the President's inherent brilliance (and not just his rehearsed yet genuine eloquence) came through, in this response to a question that many in the audience seemed to interpret as a "hostile" one (slide ahead to 37:15 in this C-SPAN video of the full event).  From a full text transcript just published by the LA Times (emphasis added):
You know, health care is really hard.  I mean, this is not easy.  I'm a reasonably dedicated student to this issue.  I've got a lot of really smart people around me who have been working on this for months now…

And the truth is — I want to be completely honest here — there is no perfect, painless silver bullet out there that solves every problem, gives everybody perfect health care for free. There isn't.  I wish there was.  I wish I could just say, you know what, we're going to change the system, everybody will get as much care as they want any time they want, everybody will have it, and it won't cost anything.  And doctors will be happy and nurses will be happy, hospitals will be happy, insurance companies will still make a lot of profits, drug companies will be able to charge as much as they want.  I can't do it.  Nobody can…

[I]f we don't change the delivery systems and change some of the incentives…[w]e'll either have to cut Medicare, in which case seniors then will bear the brunt of it, or we'll have to raise taxes, which nobody likes…
That's pretty honest talk, but it's also slightly optimistic in that last part.  Because to be completely honest, we'll probably have to cut Medicare and raise taxes even if the President's proposed health care reform becomes a reality.  It's just that if the reform works as we hope, then we won't have to cut Medicare or raise taxes quite as much as otherwise.