August 17th, 2009 . by economistmom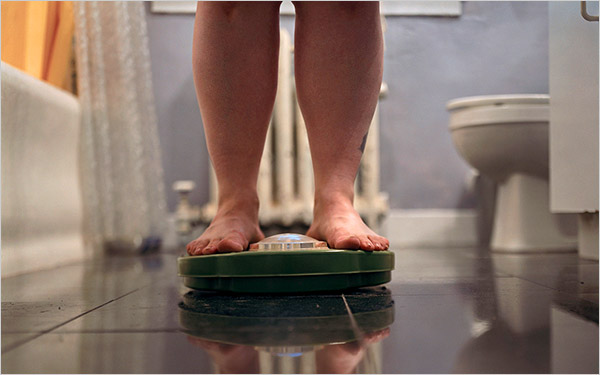 The New York Times' David Leonhardt had an interesting column in the Sunday magazine.  He thinks that in the health care reform debate, policymakers aren't paying enough attention to the influence that policy could have (and perhaps should have) on human psychology.  David leads with the story of the Cleveland Clinic, which adopted a "hire no smokers" policy two years ago:
[I]t is so striking to talk to Delos M. Cosgrove, the heart surgeon who is the clinic's chief executive, about the initiative. Cosgrove says that if it were up to him, if there weren't legal issues, he would not only stop hiring smokers. He would also stop hiring obese people. When he mentioned this to me during a recent phone conversation, I told him that I thought many people might consider it unfair. He was unapologetic. "Why is it unfair?" he asked. "Has anyone ever shown the law of conservation of matter doesn't apply?" People's weight is a reflection of how much they eat and how active they are. The country has grown fat because it's consuming more calories and burning fewer. Our national weight problem brings huge costs, both medical and economic. Yet our anti-obesity efforts have none of the urgency of our antismoking efforts. "We should declare obesity a disease and say we're going to help you get over it," Cosgrove said.
David then points out that the largest contributor to people's health, more than "substandard medical care" or social and physical environments or even genetics, is "behavior."  And today's worst health problem is a big behavioral problem called obesity.
What does David think public policy could do about changing the bad behavior that leads to obesity, short of arresting or just not hiring obese people?  He thinks we could use prices to create an economic incentive to avoid obesity.  We need to charge a penalty for obesity because obesity imposes costs on society, not just on the private citizens who "choose" (selfishly) to be obese:
Today, the great American public-health problem is indeed obesity. The statistics have become rote, but consider that people in their 50s are about 20 pounds heavier on average than 50-somethings were in the late 1970s. As a convenient point of reference, a typical car tire weighs 20 pounds.

This extra weight has caused a sharp increase in chronic diseases, like diabetes, that are unusually costly. Other public-health scourges, like lung cancer, have tended to kill their victims quickly, which (in the most tragic possible way) holds down their long-term cost. Obesity is different. A recent article in Health Affairs estimated its annual cost to be $147 billion and growing. That translates into $1,250 per household, mostly in taxes and insurance premiums.

A natural response to this cost would be to say that the people imposing it on society should be required to pay it…
One idea is surely too controversial because it seems to attack obese people so personally (some of whom have more of a genetic predisposition than others):
Cosgrove mentioned to me an idea that some economists favor: charging higher health-insurance premiums to anyone with a certain body-mass index. Harsh? Yes. Fair? You can see the argument.
So David's favored approach is via what economists call a "corrective tax"–one which taxes an activity that generates external costs (social costs in excess of market prices) in order to bring private incentives more in line with socially optimal choices:
The solutions to these problems are beyond the control of any individual. They involve a different sort of responsibility: civic — even political — responsibility. They depend on the kind of collective action that helped cut smoking rates nearly in half. Anyone who smoked in an elementary-school hallway today would be thrown out of the building. But if you served an obesity-inducing, federally financed meal to a kindergartner, you would fit right in. Taxes on tobacco, meanwhile, have skyrocketed. A modest tax on sodas — one of the few proposals in the various health-reform bills aimed at health, rather than health care — has struggled to get through Congress.
It's true that tobacco taxes have increased dramatically of late, and that will help to decrease smoking further (as well as provide needed revenue to fund children's health care), but as an ex-smoker myself, I can attest that the social stigma from signals (or "cues") that an activity is "bad" can often be a far more effective way to change behavior than are (just) higher prices.  Many policies that are designed to affect private economic (purely pecuniary) incentives have a bonus effect of signaling what society scorns or values–and I mean even beyond the size of the tax or subsidy.  Sometimes the easiest (and cheapest) way to get humans to change their behavior is to suggest that their current behavior is "totally uncool."
Take the Cash for Clunkers program, for example.  It's easy to complain that the program does not do the best job of encouraging fuel efficiency and resourcefulness; the mileage standards are pretty low, and to get the federal subsidy on the new car, you have to destroy (effectively waste) the old vehicle (which doesn't necessarily have to be that old at all).  One doesn't have to buy a hybrid or other highly-fuel-efficient vehicle to qualify–for example, one can do what my parents did and turn in their old Ford Explorer SUV for the smaller Ford Escape (even the non-hybrid version) which is nonetheless still an SUV.  Yet reports of the types of new vehicles purchased by Cash for Clunkers participants suggest that people haven't been just "squeaking by" with the minimum mileage improvements; the most popular cars purchased have been the compact cars.  That observation is consistent with two explanations:  (i) a purely economic incentive in that the smallest cars tend to be the cheapest models, so the $4500 clunkers rebate is a larger percentage off the compact car's price–plus there's an "income effect" that should encourage more purchases of cheaper cars during a recession, even apart from the bigger markdown (price or "substitution" effect); OR (ii) a "social response" of consumers to "do the right thing" given that the government is rewarding them for their supposedly "common good behavior" (not just selfish gain) and that maybe they're feeling a little guilty about destroying their old, less fuel efficient, but still useful vehicle.
OK.   Maybe my last theory sounded a little "touchy, feely" to you.  What kind of "economist" am I, saying that more than prices matter and talking about feelings driving people's economic decisions?  Well, it turns out that I am, in Myers-Briggs speak, an "ENFP" economist–that's an "Extroverted, iNtuitive, Feeling, Perceiving" economist.  Which sounds pretty crazy for an economist trained in neoclassical theory, doesn't it?  It turns out the Myers-Briggs type of people that make the best economists are (at least according to this site) "INTJs" (Introverted, iNtuitive, Thinking, Judging)–the opposite of me in 3 out of 4 of the traits.  I'm currently trying to conduct a Facebook survey among my economist Facebook friends to see if most of them are indeed INTJs.  The problem is that those economist friends of mine who are also on Facebook are probably a biased sample of my economist friends; they're probably the ones least likely to fall into the typical I, T, and J categories because they're interested in being on Facebook, after all.  (They're probably "weird" economists, like me.)  And I haven't collected many data points because I think my economist friends on Facebook are actually the least likely to spend time on Facebook out of all my Facebook friends.  (This is sort of like being "the economist" on a Democratic congressional staff; take my experienced word for it–the economist always turns out to be the least liberal of the staffers.)
Which brings me to Part II of why "psychology matters in health care reform."  I think the psychology of our political leaders matters in terms of how successful (or not) any health reform effort will be.  This past week while I've been so fascinated about my unusual-for-an-economist ENFP personality, I discovered that many people speculate that President Obama is also an ENFP.  From a Slate article written during the 2008 presidential campaign (by Emily Yoffe, emphasis added):
Barack Obama—no one will be surprised to learn—is an Idealist. His specific type is an ENFP, what [psychologist David] Keirsey calls "the Champion." ENFPs, says Keirsey, are "filled with conviction that they can easily motivate those around them." Champions work to "kindle, to rouse, to encourage, even to inspire those close to them with their enthusiasm." Idealists "usually have a tongue of silver" and are "gifted in seeing the possibilities" of institutions and people. Here's Obama on leadership: "[W]e need leaders to inspire us. Some are thinking about our constraints, and others are thinking about limitless possibility."

This ability to move people through imagery and rhetoric carries a danger for the ENFP, says Keirsey—a belief in "word magic." "Word magic refers to the ancient idea that words have the ability to make things happen—saying makes it so."…

Keirsey says Idealist leaders should be called catalysts because "[t]he individual who encounters such a leader is likely to be motivated, animated, even inspired to do his or her very best work." The New Yorker's Packer writes, "Obama offers himself as a catalyst by which disenchanted Americans can overcome two decades of vicious partisanship. …"

Idealists are deeply introspective. According to Keirsey, their "self-confidence rests on their authenticity," which makes them "highly aware of themselves as objects of moral scrutiny." Idealists, such as Thomas Paine, Mohandas Gandhi, and Martin Luther King Jr., tend to be leaders of movements, not office-holders. If Obama is elected, not only would he be the first black president, but according to Keirsey, he'd be the first Idealist president.  [According to this site though, Bill Clinton is a "verified" ENFP.] (Kroeger speculates that Lincoln may have been an Idealist.) Idealists are rare in any executive position…ENFPs themselves are rare—Keirsey estimates only about 2 percent of people are ENFPs. Kroeger says the ENFP can be an effective boss. "At their best they bring a refreshing alternative style to top management and decision making."

Keirsey says that the Idealist is the unusual leader who is "comfortable working in a climate where everyone has a vote." In a Vanity Fair profile, Todd Purdum quotes a Harvard Law School classmate of Obama's describing his collaborative style as editor of the Law Review…In a speech, Obama described this ability: "If you start off with an agreeable manner, you might be able to … recruit some independents into the fold, recruit even some Republicans into the fold."

As leaders, Keirsey says, the Idealists possess a "diplomatic intelligence." They "seek common ground," want to "forge unity," arrive at "universal truths," and are "trusting." Given these qualities, it should be no surprise that Obama says that as president, he would quickly sit down with our enemies…

The ENFP can have a problem with "restlessness," says Kroeger. "As a task or responsibility drags on and its mantle becomes increasingly routine, the ENFP can become more pensive, moody, and even rigid." Obama himself referred in a debate to his disorganization and dislike of paperwork—and his self-knowledge that "I need to have good people in place who can make sure that systems run." But as Purdum writes, it is Obama's "restlessness" that prompted him "to take a chance, to aim higher—when others told him to wait his turn."
Now that might not sound all that wonderful for Obama's ability to get the health care reform job done quickly and efficiently.  But contrast that description of Obama's ENFP personality with the same article's explanation of how Hillary Clinton's ESTJ personality may have doomed the Clinton Administration's (ok, Hillary's) health care reform effort:
ESTJs are most comfortable in the world of the specific. Keirsey says they will listen politely to "theoretical or fanciful" conversation—what an ESTJ surely thinks of as a certain other candidate's gasbaggery—then "shift to more concrete things to talk about, more solid and sensible topics" using their ability to call up at will "an enormous fund of facts." (Ever heard a Hillary speech?)

It is this ESTJ-ness that may explain the failure of Hillary's health-care initiative as first lady. ESTJs like nothing better than digging deep into the specifics of a system and batting out proposals with trusted staff, then presenting the perfect fait accompli to a grateful public. As [consultant Otto] Kroeger points out, ESTJs can be stunned when the plans fail: "Having packaged the argument so neatly and precisely, how could anyone possibly disagree?" Keirsey says this blindness comes from the concrete-thinking ESTJ's pronounced weakness at the abstract arts of strategy and diplomacy. Hillary neither foresaw the attacks by competing interests nor had the people skills to win over her opponents.
So those are a couple ways in which "psychology matters" in health care reform: (1) if we're going to "bend the cost curve" in a cost-effective manner, we ought to devote some of our creative thinking toward clever ways to affect human psychology to get people to start losing weight; and (2) we better get our ENFP president to inspire not just the American public, but also those nasty partisans on both sides of the aisle in Congress, to come on board.