August 31st, 2009 . by economistmom
This post was inspired by an email exchange I had with Bruce Bartlett this morning, which I'll quote from a little later, but Bruce didn't use the word "hypocrisy"–that's my own fairly careful choice of words after giving it some thought and reading this explanation of what "hypocrisy" means, from Wikipedia (my emphasis added):
Hypocrisy is the act of pretending to have beliefs, opinions, virtues, feelings, qualities, or standards that one does not actually have. Hypocrisy is thus a kind of lie. Hypocrisy may come from a desire to hide from others actual motives or feelings.

Hypocrisy is not simply an inconsistency between what is advocated and what is done. Samuel Johnson made this point when he wrote about the misuse of the charge of "hypocrisy" in Rambler No. 14:

"Nothing is more unjust, however common, than to charge with hypocrisy him that expresses zeal for those virtues which he neglects to practice; since he may be sincerely convinced of the advantages of conquering his passions, without having yet obtained the victory, as a man may be confident of the advantages of a voyage, or a journey, without having courage or industry to undertake it, and may honestly recommend to others, those attempts which he neglects himself."[1]
By the above interpretation, I'd say President Obama is not being a hypocrite, because his Administration has put forth some policy proposals that they truly want to see happen.  They're sincerely convinced of the need to expand health care coverage.  They're sincerely convinced of the importance of fiscal responsibility and the need to both "bend the health cost curve" over the longer run and offset the cost of their proposal over the first ten years.  And they've offered up a way they think they can honor all those goals.  It's just not yet clear that President Obama will be able to "follow through" on those strong convinctions–i.e., be "strong and powerful" enough to achieve those goals (claim "victory") in whatever policies actually, eventually, get enacted.  (It's like David Wessel said the other day:  President Obama from here forward will be judged on his achievement and not just his effort.)
Why do I accuse the Republicans of being hypocrites on this issue of health care reform?  (And by the way, don't worry–there are and will be plenty of other things I can accuse Democrats of being hypocrites on.)  Because I don't think the Republicans really want to "protect" Medicare "as we know it"–the way they're pretending, claiming, or at least strongly suggesting via the town hall protests against the President's health reform plan.  As Ronald Brownstein wrote in the National Journal last Friday (my emphasis added):
Republican National Committee Chairman Michael Steele's pledge this week to "protect Medicare" might have been more convincing had it not come five months after nearly four-fifths of House Republicans voted to literally end the program as we know it for all Americans younger than 55.

They cast that vote on April 2 in support of a GOP alternative budget plan that would have converted Medicare from an open-ended entitlement that guarantees seniors virtually unlimited access to care into a voucher system that provides future retirees only a fixed sum of money to purchase private health insurance. That approach — a variation of legislation Republicans actually passed through the House when they controlled it in 2003 — has some advocates among health policy experts. But this longstanding GOP prescription for Medicare emphatically violates most of the six principles that Steele enshrined this week as the pillars of a Republican "Health Care Bill of Rights" for seniors.

Although Republicans are accusing President Obama of embarking on a "risky experiment" by pursuing Medicare cost savings to help fund universal coverage, by any measure the plan that House Republicans endorsed this spring represents a much more wrenching change in the program…

With polls showing seniors uneasy about Obama's health care plans, Steele this week committed Republicans to six reassuring goals on Medicare. Among them were avoiding cuts in the program and ensuring that seniors can keep their current coverage. But those pledges are flatly incompatible with the Medicare agenda that Republicans have pursued for the past decade — and reaffirmed with their vote this spring…

Rep. Paul Ryan of Wisconsin, a leading GOP fiscal thinker…insert[ed] into the House Republican budget an especially aggressive version of premium support. Ryan proposed to maintain the existing Medicare program, which is open to seniors once they turn 65, for all current recipients and anyone else who is at least 55 today. But the bill mandated that all younger Americans, once they turn 65, would instead receive a voucher to purchase private insurance (with sicker and poorer seniors receiving larger vouchers). In Ryan's proposal, unlike the 2003 Republican plan, new retirees would not even have the option of buying into traditional fee-for-service Medicare once the voucher system is implemented; Medicare as it now exists would disappear once the last retirees still eligible for it passed away. House Republicans backed the GOP budget including that plan to phase out conventional Medicare this April by a vote of 137-38, but it was rejected amid unanimous Democratic opposition.

Ryan, like other proponents, argues that premium support would provide seniors "more direct control over health care decisions" while saving Washington money. But critics like [AARP's John] Rother say that converting Medicare into a voucher would increase costs for all beneficiaries and over time force less-affluent seniors to accept lower-quality care. "It is a very dangerous idea," he says.
And why would Paul Ryan propose such a "dangerous idea"?  Because it's only with severe cuts to Medicare spending that he could keep taxes as a share of GDP at the 40-year historical average (deemed somewhat "magical" by the GOP) of 18 percent.  See for yourself; here's a chart of the effect of the GOP alternative budget on long-term federal spending provided by Paul Ryan himself, in his op-ed in the Wall Street Journal (published on 4/1/09):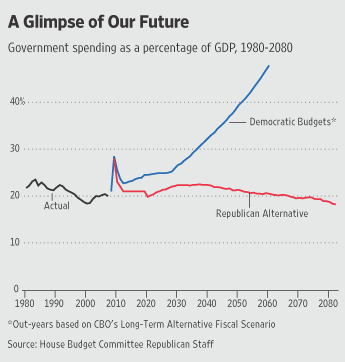 See where the red line ends, at around 18 percent of GDP?  See how big that gap is between spending under the blue-line Democratic budgets (keeping Medicare at status quo) and spending under the red-line GOP alternative budget?  You see, "keeping taxes low" is a far greater priority for Republicans than is "protecting Medicare"–or certainly Medicare "as we know it."
And as Bruce Bartlett wrote in an email this morning (quoted with his permission), whatever it is the Republicans really want to do about Medicare, they're certainly not fessing up to it with the American public.  Either they want to cut Medicare (a lot), or they don't (and I think they do)–or as Bruce put it (my emphasis added):
We see all these demonstrators protesting Obama's health care plan and the right wingers are eating it up. But most of these protesters are seniors upset about the extremely modest Medicare cuts that Obama wants to finance universal coverage.  And these cuts are just a drop in the bucket compared to what would be necessary to keep Medicare spending from rising as a share of GDP, which is what would be required to prevent the necessity of raising taxes.  Can you imagine how big the protests would be if Congress really tried to cut Medicare?
And if the Republicans don't want to cut Medicare by a lot (i.e., if they're now saying "never mind" on the Ryan alternative budget), then the Republicans (yes, even the Republicans) will  have to acknowledge that taxes will have to come up.  Again from Bruce's email:
I think it would have been better for Obama to have financed his health plan with some sort of dedicated tax—VAT, payroll tax, whatever.  If people didn't want health reform enough to pay the tax then maybe it wasn't something worth doing. Keep in mind that people will pay higher taxes for something they really want. Social Security was enacted in the middle of the Great Depression and included new taxes on a vast number of people who had never paid a penny of income taxes in their lives.  Moreover, benefits weren't paid out for several years, so in the sort run it was a pure tax increase with no offsetting benefit.  But FDR sold it.
So I guess President Obama will have to "sell" his vision for health care reform with conviction and honest advertising, and Congress and the American people will have to "buy" it–or else the President's efforts will turn into, not a hypocrisy, but at least somewhat of a failure.