September 16th, 2009 . by economistmom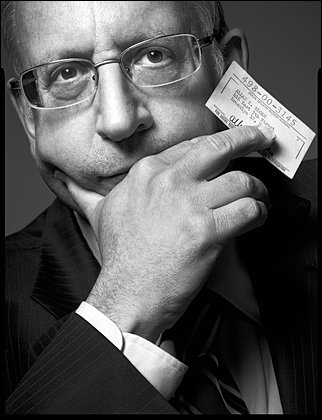 I'm on the road again, in Chicago for a couple days, so I thought I'd do an easy post tonight by highlighting Allan Sloan's very informative column on Social Security in Tuesday's Washington Post.  (Oh yeah, remember Social Security, that other entitlement program we haven't gotten quite right just yet–despite the fact that it's not subject to those nasty rising per capita health costs?)
I especially like Allan's explanation of how little the immigration issue affects Social Security's fiscal position:
Social Security has big problems, which was the point of my article, and readers wanted to know how much of that is attributable to illegal residents' getting benefits.

The answer is, little or nothing. Here's why. If you're an illegal resident and get a legitimate Social Security number, and work long enough to qualify for benefits, you can collect if you move outside the United States. (However, you can't collect if you stay here, under Social Security rules.) But paying those benefits — which illegal immigrants have earned by paying Social Security taxes, along with their employers — is the same as paying a legal resident who has similar payment history. Social Security is an earned benefit — it's not like Medicaid or welfare — and those who have paid into the system, whether or not they're here legally, have earned it.

If you're an illegal immigrant with a phony Social Security number, you're helping Social Security, because you and your employer pay into the system but you don't get any benefits from it. The money is credited to a "no-match" account at the Social Security Administration.

And please, don't deluge me with mail about illegal workers. I'm not taking a position on the broader issue of immigration, I'm simply answering a legitimate question about its impact on Social Security, which seems to be negligible.
And I like this reader's honesty which reveals how even the most sensible of policies to reform Social Security (as I think raising the retirement age is) will not be an easy sell to the American people (Allan's response follows), emphasis added:
I enjoyed your article except when I got to your proposal of raising the retirement age to 70. I retired early this year at age 64, and let me tell you, there is no way I could have hung on to age 70 doing my job well, and I'm not a manual laborer. There is something about mid- and late 60s that makes it very difficult to continue working mentally and physically. The body starts breaking down and the mind slows down. Maybe you are an exception.

– S.H.

AS: Would that I were — at 64, I'm definitely getting creaky. But we have to do some painful things to make Social Security financially secure, and raising the retirement age for white-collar workers is one of them.
"Painful things?"  No thanks, the public says.  We'll stick with more benefits and lower taxes; after all, it's worked out for us thus far.
Here's the link to Allan's August column that generated all that mail from which he quoted (and from which the photo above came).  I liked how Allan explained today how his photo was doctored; that was more interesting than how I had altered mine (just blurring my number out) in my Obama "donut hole" post (from June 2008):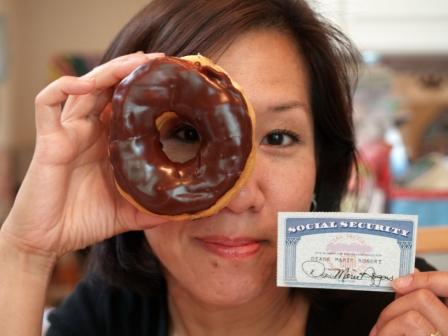 (And speaking of "painful things"–the fact that my spam blocker isn't working and is letting some clearly inappropriate comments get by (Mom, don't read them!) is really "painful" to me… Another reason for tonight's no-brainer post.)