October 17th, 2009 . by economistmom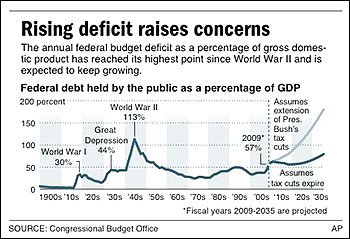 Today's headline in the Washington Post:  "Record-High Deficit May Dash Big Plans"–refers primarily to President Obama's "big plans" for further deficit-financed stimulus spending.  But realistically, the large (though still smaller-than-expected) $1.4 trillion deficit is a threat to all of the Administration's fiscal policy agenda, including their health care reform initiative which they believe will eventually reduce and not just not increase the deficit.  Revenues (whether newly proposed or already in place) that the government chooses to use to fund new programs are revenues that are unavailable for deficit reduction.  And revenues given away through deficit-financed tax cuts are revenues that are no longer available for, well, either new initiatives or deficit reduction.
I've harped about the deficit-financed extension of the Bush tax cuts over and over here–far more than I've "harped" or "carped" about deficits in general (what a nag I've been!)–but for today let's just consider this simple math:  the large portion of the Bush tax cuts that President Obama has proposed to extend cost about $2 trillion over ten years (fiscal years 2010-19, see Table 1-4 in this CBO analysis)–without counting the additional costs of extended alternative minimum tax (AMT) relief and without counting interest costs.  The cost of expanding health care coverage to achieve nearly universal care is now commonly known to be about $1 trillion over ten years.  Thus, if we chose to let the Bush tax cuts expire as scheduled at the end of 2010–a policy choice that would require no legislative action on the part of Congress or President Obama and which Obama Administration budget director Peter Orszag has previously urged as the "right" choice–we would be able to pay for expanded health coverage without any "new" tax increases and still have (over) $1 trillion left over for deficit reduction.
I'm not saying that letting the Bush tax cuts expire is the best way to pay for health care reform (I actually prefer raising taxes tied directly to health care spending so that revenue would keep pace with health costs), but I'm saying that that's a lot of revenue to give away and not have available for all these other things (health care, deficit reduction) we say are really important to us.  And I continue to be puzzled as to why the deficit-financed extension of the Bush tax cuts is the single largest (most expensive) item in President Obama's proposed budget, especially in light of these record deficits and how the Obama Administration reminds us, constantly, that these deficits are not their fault.  From the Administration's press release on the final FY2009 budget deficit (released Friday afternoon–the best time for bad news), emphasis added:
The FY2009 deficit was largely the product of the spending and tax policies inherited from the previous Administration, exacerbated by a severe recession and financial crisis that were underway as the current Administration took office.
Well, these record deficits might not be the Obama Administration's "fault," but they are now their "problem."  Choosing to extend the Bush tax cuts basically amounts to the Obama Administration saying they prefer Bush Administration tax policy over Clinton Administration tax policy.  (If the Bush tax cuts expire at the end of 2010, we will go back to pre-2001 tax policy and the marginal tax rates we had at the end of the Clinton Administration.)  I don't believe that they actually feel that way.  I think Bill Gale (Peter Orszag's coauthor on those many "Bush tax cuts are bad" papers that were written during the Bush Administration) says it well at the end of today's Washington Post story:
Economists universally agree that the nation cannot run such massive deficits indefinitely. The question now facing Obama, budget experts said, is how to bring spending and revenue more closely into balance in the years ahead, after the economy fully recovers.

"[T]he significance of the number is not what happened to cause it to be so large. The question is what happens next," said William Gale, a senior fellow at the Brookings Institution.
If, as the Post story quotes Peter Orszag saying, the President is truly "considering proposals to put our country back on firm fiscal footing," then a reconsideration of the extension vs. expiration of the Bush tax cuts ought to be at the top of the list–even before other good ideas such as an add-on value-added tax and reducing costly and inefficient tax expenditures such as the exclusion for employer-provided health care.  For as good as those other ideas for "revenue enhancement" are, getting those ideas passed will be a lot more work and would take us to a tax system we've never experienced before.  In contrast, Congress and the Obama Administration don't have to lift a finger to get the $2 trillion to $3 trillion in revenue they'd get (just over the first ten years) by just not extending the Bush tax cuts and going back to Clinton-era tax policy.  President Obama could always choose to reform the tax system from that starting point, to craft "Obama Administration tax policy" as something truly of his own.