November 22nd, 2009 . by economistmom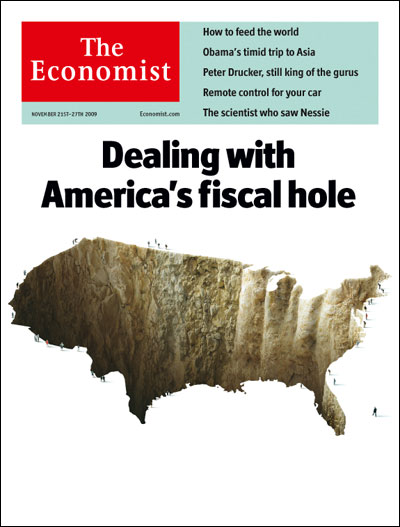 The cover story in this week's Economist magazine discusses "dealing with America's fiscal hole." The "hole" is described not as something we'll have to dig ourselves out of in the far-off future, but something we're already too far in now.  (The story quotes Bill Gale and Alan Auerbach's line on it:  "The future is now.")  While the article describes "the elephant in the budget" as entitlements and how most of the effort to control deficits after 2019 will have to be focused on entitlement reform, it acknowledges that any such entitlement reform even coupled with other spending-side cuts won't do enough to help the fiscal outlook anytime soon (emphasis added):
Because entitlement changes have to be phased in slowly, they offer only limited savings in the short term. Other programmes such as highway funding and farm assistance could be trimmed, and perhaps handed over to the states. Defence and discretionary items represent just a third of spending, and Mr Obama has already planned to shrink both in nominal dollars by 2014, as the wars in Iraq and Afghanistan (with luck) wind down and the stimulus expires. Thereafter, they would grow only slightly faster than inflation. Freezing both at 2014 levels would shrink them in real terms. Still, it would save only $160 billion a year by 2019. Even elimination of the notorious "earmarks", favoured projects slid into the federal budget by individual congressmen, would save little; they add up to less than $20 billion a year, and in any case they only rearrange, rather than expand, the budget.
Even with the best-case scenarios for trimming the spending side of the budget, both mandatory and discretionary parts, as much as is both possible and wise, the Economist concludes (emphasis added):
The [spending-side] measures outlined above could generate perhaps half the savings needed to get the deficit down to 3% of GDP (see table). Without more drastic cuts, achieving the other half requires higher tax revenue. George Bush's tax cuts expire at the end of next year. This could provide a catalyst for more fundamental tax reform…
And that table referenced?  It looks at options for reducing the deficit in terms of their 2013-14 impact and is copied below:
Note that it shows spending options totaling $101 billion, but tax expenditure reductions (usually considered "tax-side" options) totaling $552 billion.  It also shows "other tax options" including a 5 percent VAT worth $324 billion and an increase in the gasoline tax of 50 cents/gallon worth $62 billion.  The point is that the Economist magazine's tax-side options far outweigh the spending-side options by a 9-to-1 ratio, which is not-so-coincidentally very close to the dominance of tax-side options to spending-side options in the Concord Coalition's Federal Budget Challenge (which covers the full ten-year budget window and not just the four-to-five-year-out point).
The point is that we have to be biased toward tax increases over spending cuts if we really want to at least "stop digging" right away.  It doesn't matter if the profligate spending of the past is more to blame than the unaffordable tax cuts of the past for the mess we're in today.  What matters is the best, most sensible way forward to get out of the fiscal hole both immediately (mostly tax increases) and sustainably over the longer term (mostly entitlement reform).
My big worry is that the more folks argue that the main problem is out-of-control entitlement spending and so "let's just worry about those programs later" (once we figure out how to do it!) rather than trying to raise taxes right away, the more likely we'll keep putting it off and putting it off and claiming we'll behave better in the future, and the more likely we'll never dig our way out–or stop digging our way down.