January 27th, 2010 . by economistmom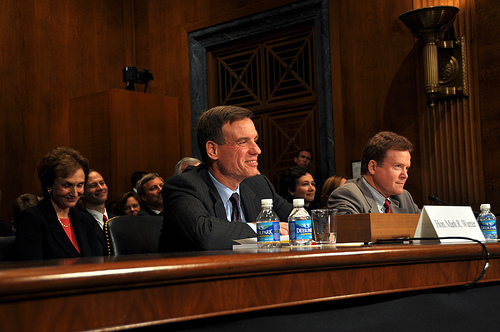 The amendment to the debt limit increase calling for the Conrad-Gregg fiscal commission (designed to encourage deficit reduction) was "defeated" yesterday by failing to garner the filibuster-proof 60 votes, although a majority of the senators (53) did support it (and Senator Conrad said at his press conference it would have been 54 had Senator Murkowski (R-AK) been there to vote).  Stan Collender points out that it was an "absolutely bipartisan" "defeat"–in fact a downright (bipartisan) "deficit smackdown" (I think he means "deficit reduction smackdown").  Well, I prefer to see the glass as (more than) half full:  there were 53 senators who voted "yes" on the commission, and there were both Democrats (36) and Republicans (16) (and one Independent, Lieberman) in that column.  Since Stan already reproduced the "Nays" list that he seems to be honoring, I'd like to highlight the "Yeas":
YEAs —53
Alexander (R-TN)
Bayh (D-IN)
Begich (D-AK)
Bennet (D-CO)
Bingaman (D-NM)
Bond (R-MO)
Boxer (D-CA)
Carper (D-DE)
Chambliss (R-GA)
Collins (R-ME)
Conrad (D-ND)
Corker (R-TN)
Cornyn (R-TX)
Dorgan (D-ND)
Durbin (D-IL)
Enzi (R-WY)
Feingold (D-WI)
Feinstein (D-CA)
Franken (D-MN)
Gillibrand (D-NY)
Graham (R-SC)
Gregg (R-NH)
Hagan (D-NC)
Isakson (R-GA)
Johanns (R-NE)
Johnson (D-SD)
Kaufman (D-DE)
Kerry (D-MA)
Klobuchar (D-MN)
Kohl (D-WI)
Landrieu (D-LA)
LeMieux (R-FL)
Leahy (D-VT)
Levin (D-MI)
Lieberman (ID-CT)
Lincoln (D-AR)
Lugar (R-IN)
McCaskill (D-MO)
Menendez (D-NJ)
Nelson (D-FL)
Nelson (D-NE)
Pryor (D-AR)
Reid (D-NV)
Schumer (D-NY)
Shaheen (D-NH)
Tester (D-MT)
Udall (D-CO)
Vitter (R-LA)
Voinovich (R-OH)
Warner (D-VA)
Webb (D-VA)
Wicker (R-MS)
Wyden (D-OR)
My problem with Stan's seeming praise for the "Nay"-sayers is that I don't believe the "bipartisan" objections to the commission represent "bipartisan" support for any other way out of our fiscal state.  Many of the senators who voted against the Conrad-Gregg commission were not just objecting to the process of having to vote on the commission's recommendations; they were objecting to the inevitable recommendations themselves–that we might actually have to raise taxes or reform the Medicare and Social Security programs (and possibly cut someone's benefits).
That's why I'm proud of my senators from Virginia, Mark Warner and Jim Webb, who were the only two senators who both voted for the Conrad-Gregg commission and refused to support the Baucus amendment (despite being of the same party as Baucus).  I think the Baucus amendment is a prime example of how far from bipartisanship we actually are when it comes to fiscal responsibility and deficit reduction; it basically says "hands off Social Security"–which directly contradicts the notion (which I think the Conrad-Gregg commission supports) that the only way we are going to solve the deficit problem is to work together and put "everything on the table."   Here is the key passage from the text of the amendment (emphasis added):
(a) LIMITATION ON CHANGES TO THE SOCIAL SECURITY ACT.–Notwithstanding any other provision of law, it shall not be in order in the Senate or the House of Representatives to consider any bill or resolution pursuant to any expedited procedure to consider the recommendations of a Task Force for Responsible Fiscal Action or other commission that contains recommendations with respect to the old-age, survivors, and disability insurance program established under title II of the Social Security Act.
Yet the Baucus amendment received the support of all of the senators except Senators Warner and Webb, who both abstained from the vote.  The amendment passed with 97 "Yeas", 0 "Nays", and 3 "not voting" (Senator Murkowski was not present).
I would have preferred to see some "Nays" on this, but frankly, I'm just puzzled why there was so much "bipartisan" support for the Conrad-Gregg commission itself and yet so much willingness (via the Baucus amendment) to do the very thing the commission is intended to avoid: taking options off the table that one side or the other doesn't like.
[**ADDENDUM 1 pm:  And speaking of sincerity about the kind of "bipartisanship" that might actually work to reduce the deficit, here's a nice op-ed by Senator Warner that was published last week in the Richmond Times-Dispatch.  I found this on his Facebook page, where I was already a "fan."  And how about his "tweet" from yesterday:  "Disappointd by Sen's rejectn of biprtsn panel to tackle fed budget deficits. Neither party will make hard choices on its own"]