January 27th, 2010 . by economistmom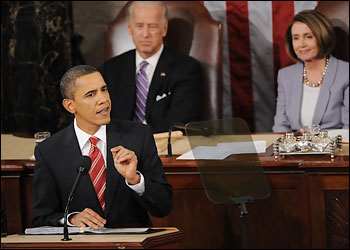 The President said some good things tonight about fiscal responsibility, and he endorsed the fiscal commission as well as statutory PAYGO budgeting.  He just didn't get very specific about the types of tough choices the commission would have to recommend (that we will have to reform our entitlement programs and raise taxes), or exactly which tax cuts and spending would have to be paid for under PAYGO and which would not.  And I definitely heard more bipartisan applause for all the tax cuts he mentioned (especially the capital gains tax cuts) than for any part of his fiscal responsibility talk.
Some of these fiscal policy highlights from the President's speech (emphasis and notes added to the CNN transcript):
That's why we…passed 25 different tax cuts.

Let me repeat: We cut taxes. We cut taxes for 95 percent of working families. We cut taxes for small businesses. We cut taxes for first-time homebuyers. We cut taxes for parents trying to care for their children. We cut taxes for 8 million Americans paying for college.

I thought I'd get some applause on that one… [and he did]…

So tonight, I'm proposing that we take $30 billion of the money Wall Street banks have repaid and use it to help community banks give small businesses the credit they need to stay afloat. I am also proposing a new small business tax credit — one that will go to over one million small businesses who hire new workers or raise wages. While we're at it, let's also eliminate all capital gains taxes on small business investment; and provide a tax incentive for all businesses, large and small, to invest in new plants and equipment…

To make college more affordable, this bill will finally end the unwarranted taxpayer-subsidies that go to banks for student loans. Instead, let's take that money and give families a $10,000 tax credit for four years of college and increase Pell Grants. And let's tell another 1 million students that when they graduate, they will be required to pay only 10 percent of their income on student loans, and all of their debt will be forgiven after 20 years — and forgiven after 10 years if they choose a career in public service…

[I]t is precisely to relieve the burden on middle-class families that we still need health insurance reform.

Now let's clear a few things up — I did not choose to tackle this issue to get some legislative victory under my belt. And by now it should be fairly obvious that I didn't take on health care because it was good politics…

[E]ven as health care reform would reduce our deficit, it's not enough to dig us out of a massive fiscal hole in which we find ourselves. It's a challenge that makes all others that much harder to solve, and one that's been subject to a lot of political posturing.

So let me start the discussion of government spending by setting the record straight. At the beginning of the last decade, America had a budget surplus of over $200 billion. By the time I took office, we had a one year deficit of over $1 trillion and projected deficits of $8 trillion over the next decade. Most of this was the result of not paying for two wars, two tax cuts, and an expensive prescription drug program. On top of that, the effects of the recession put a $3 trillion hole in our budget. That was before I walked in the door.

Now if we had taken office in ordinary times, I would have liked nothing more than to start bringing down the deficit. But we took office amid a crisis, and our efforts to prevent a second Depression have added another $1 trillion to our national debt. That too is a fact.

I am absolutely convinced that was the right thing to do. But families across the country are tightening their belts and making tough decisions. The federal government should do the same. So tonight, I'm proposing specific steps to pay for the $1 trillion that it took to rescue the economy last year.

Starting in 2011, we are prepared to freeze government [non-security discretionary] spending for three years. Spending related to our national security, Medicare, Medicaid, and Social Security will not be affected. But all other discretionary government programs will. Like any cash-strapped family, we will work within a budget to invest in what we need and sacrifice what we don't. And if I have to enforce this discipline by veto, I will.

We will continue to go through the budget line by line to eliminate programs that we can't afford and don't work. We've already identified $20 billion in savings for next year. To help working families, we will extend our middle-class tax cuts. But at a time of record deficits, we will not continue tax cuts for oil companies, investment fund managers, and for those making over $250,000 a year. We just can't afford it.

Now, even after paying for what we spent on my watch, we will still face the massive deficit we had when I took office. More importantly, the cost of Medicare, Medicaid and Social Security will continue to skyrocket. That's why I've called for a bipartisan fiscal commission, modeled on a proposal by Republican Judd Gregg and Democrat Kent Conrad. This can't be one of those Washington gimmicks that lets us pretend we solved a problem. The commission will have to provide a specific set of solutions by a certain deadline. [NOTE: No mention of cutting Social Security or Medicare benefits or raising taxes.] Yesterday, the Senate blocked a bill that would have created this commission. So I will issue an executive order that will allow us to go forward, because I refuse to pass this problem on to another generation of Americans. And when the vote comes tomorrow, the Senate should restore the pay-as-you-go law that was a big reason why we had record surpluses in the 1990s. [NOTE: No mention of PAYGO exemptions.]

I know that some in my own party will argue that we can't address the deficit or freeze government spending when so many are still hurting. I agree, which is why this freeze won't take effect until next year, when the economy is stronger. But understand — if we don't take meaningful steps to rein in our debt, it could damage our markets, increase the cost of borrowing, and jeopardize our recovery — all of which could have an even worse effect on our job growth and family incomes.

From some on the right, I expect we'll hear a different argument — that if we just make fewer investments in our people, extend tax cuts for wealthier Americans, eliminate more regulations, and maintain the status quo on health care, our deficits will go away. The problem is, that's what we did for eight years. That's what helped lead us into this crisis. It's what helped lead to these deficits. And we cannot do it again.

Rather than fight the same tired battles that have dominated Washington for decades, it's time to try something new. Let's invest in our people without leaving them a mountain of debt. Let's meet our responsibility to the citizens who sent us here. Let's try common sense.

To do that, we have to recognize that we face more than a deficit of dollars right now. We face a deficit of trust — deep and corrosive doubts about how Washington works that have been growing for years…
Incidentally, if we follow the suggestion that we can keep cutting taxes and yet manage to reduce the deficit to a more sustainable (or even zero) level, we're liable to end up with a proposal like Rep. Paul Ryan's (R-WI) "roadmap" plan, which CBO released their analysis of today.  Ryan holds federal revenues at 19 percent of GDP going all the way out to 2080, yet he manages to completely pay down the federal debt.  How does he do it?  By cutting Medicare spending from its projected 14.3 percent of GDP in 2080 down to just 3.5 percent of GDP (see Table 1 on page 6)–a cut of more than three-fourths and 10.8 percent of GDP! (Medicaid gets a similar percentage cut.)  This is "bending the health cost curve" all the way down to flat-lining it–an outcome I have publicly proclaimed as "impossible" if our society is a "compassionate" one.  (Wow.) But I'll have more to say on the tax-side versus spending-side approaches to deficit reduction–using CBO's baseline and Ryan plan analysis–in a later post.   Now I've got to hear what all the late-night talking heads have to say about the SOTU speech.