February 8th, 2010 . by economistmom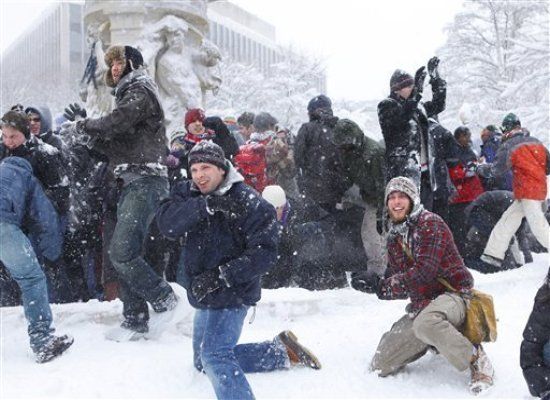 (Photo from HuffingtonPost)
So, I've been pretty much paralyzed with this snowstorm ("Snowmageddon" as they've dubbed it) here in DC.  We have a couple feet of snow on the ground!  It's made it difficult for me to keep up any of my normal routine either as economist or mom, in fact, so I haven't blogged since before the first flakes fell.  But with everything including my work place, my kids' schools and the federal government closed today, no Economic Report of the President released yet (I think it was supposed to come out this week, maybe even today), and not much to do other than wait for the snow to thaw (but you know, we have another round of snow coming tomorrow?!), I thought I'd attempt this little post relating this weekend's storm to the fiscal policy issues I manage to obsess about even in the middle of something as distracting as all this snow.
On Saturday I witnessed this amazing mass snowball fight in Dupont Circle (pictured above)–here are Washington Post and Huffington Post stories and videos on it.  It sort of reminded me of how well bipartisanship is going these days on Capitol Hill, especially when it comes to coming together on fiscal responsibility…
We have the House Republican Leader, John Boehner, arguing that the President's notion of a bipartisan fiscal commission would actually be a "partisan" commission, mainly because it would allow revenue increases to be put on the table (emphasis added):
The commission proposed by President Obama would reportedly be barred from proposing cuts to any discretionary spending, which accounts for more than one-third of all federal spending.  With discretionary spending off the table, tax increases would represent a very large portion of the policy options for decreasing deficits.  By seeking to take the 'comprehensive' route on every issue except spending, the Obama Administration only reveals its unwillingness to end Washington Democrats' spending binge.
Of course, unlike mandatory spending, discretionary spending is subject to annual review through the appropriations process and can be constrained through the use of spending caps.  If the Administration really were unwilling to tackle the growth in government spending, they would have taken the big mandatory spending programs (Medicare, Medicaid and Social Security) off the table, but they didn't–even with some pressure from the more liberal parts of their party to do just that.
House Majority Leader Steny Hoyer responded to the Boehner statement with this (emphasis added):
I'm disappointed in Minority Leader Boehner's response to a sincere attempt to establish a bipartisan mechanism to address the fiscal challenges facing our nation.  The Obama Administration has made fiscal responsibility a focus over both the short- and long-term. Their budget proposal included several immediate steps, such as the freeze on non-defense discretionary spending and a Financial Crisis Responsibility Fee to ensure taxpayers are repaid.  Additionally, the President will sign statutory 'pay-as-you-go' legislation into law soon, reinstating a proven tool for bringing discipline to the budget process.

Over the long-term, a bipartisan fiscal commission is key to setting a path toward sustained fiscal discipline.  The Administration has repeatedly indicated its openness to constructive suggestions on how a commission should be structured, as evidenced by Secretary Geithner's outreach to Minority Leader Boehner.   I regret that Leader Boehner rejected the Administration's overture asking for input…

I agree that all options for restoring fiscal balance should be on the table for the commission to consider.  However, budget experts from across the political spectrum agree that finding a solution to our long term fiscal challenges requires focusing on tough choices with regard to entitlement spending and revenues. Regardless of how discretionary spending is handled, the proposed freeze for the next fiscal year is a strong action.
That is the key component of any "bipartisan" effort to achieve a more sustainable budget outlook:  both entitlement programs (spending
cuts
) and revenues (tax
in
creases) have to be on the table.  Steny Hoyer is brave enough to spell it out a bit more than the Administration is yet willing to.  It's true that the President at least hinted at his post-State-of-the-Union meeting with House Republicans that he didn't exactly agree with their notion that tax
cuts
are the key to fiscal responsibility (from a
Wall Street Journal report
):
Many Republicans say a tax cut would spur growth and revenue. Mr. Obama suggested it would cost revenue and drive up the deficit. "I'm going to want to take a look at your math, and see how that works," he said.
TAPPER: Do you think the fact that you guys are pushing the bipartisan commission is indicative of the fact that our political system is not capable of taking on the serious challenges our nation faces?  You and I know that the money, as Willie Sutton says, said, that — why do you rob banks? Because that's where the money is. The money is in entitlement programs, Medicare, Medicaid, Social Security, things that you do not touch in this budget. The fact that you need a bipartisan commission to recommend cuts or tax increases, doesn't that indicate that our political system is incapable of making these tough decisions?

GEITHNER: Jake, I am very confident in our ability as a country to bring people together and make sure we are solving these challenges and these problems. We've done it in the past. It is completely within our capacity to do as a country. But of course it requires you bringing people together across the aisle to step back from politics, to try to bring practical solutions to things that are very important to our future as a country. And the president is committed to do that. And we're going to give the Republican Party the chance to share in the responsibility and the burden and the privilege of trying to fix the things that were broken in this country.

TAPPER: Republicans are afraid this is just a back door for tax increases. Are you willing to say that tax increases are off the table for this commission, let's sit down and talk about the long-term structural problems with entitlement spending?

GEITHNER: The president's view — and this is a view shared by many Republicans, and it builds on what we've seen with effective commissions in the past, like the Greenspan commission that President Reagan established to help restore the financial footing of Social Security — is that, for this to work, you've got to bring people together to step back from politics, day-to-day politics, and to bring fresh ideas to solve these kind of problems. That's the only way to do it, we think, and we're committed to doing that. We've got to do it on a bipartisan basis, and we're deeply serious about doing this.
The
right
response to the last Tapper question should have been that "no, we're not willing to take tax increases off the table, because without both the tax increases that are painful for Republicans and entitlement cuts that are painful for Democrats, there will be no
bipartisan compromise
that can actually
reduce
the longer-term deficit rather than increase it."  But we're still working with an Administration who, although
believing
deep down in their hearts that taxes must come up, aren't yet willing to say it.  (They're only willing to talk about
"other factors," "other things,"
and now "fresh ideas.")
That's why right now I feel a lot like Jonathan Chait does in his New Republic column from a week ago entitled "The Impossibility of Fiscal Responsibility." Jonathan argues that fiscal responsibility is impossible because the Republicans aren't cooperating or even "engaging" (not even in a chaotic snowball fighting kind of way), and that:
[I]t's very hard for one party to reduce the deficit by itself. I wouldn't say that the entire Democratic Party is committed to serious deficit reduction. But major elements are, and nearly the whole party is committed to at least not making the problem worse. But a unilateral commitment to fiscal responsibility is a huge political handicap…

The more Democrats do to reduce the deficit, the easier they make it politically for Republicans to retake power, and the easier they make it fiscally for Republicans to wreck the budget when they do. So, why try?
So, because right now there's no evidence that current Republicans in Congress will budge an inch on the issue of taxes, and at the same time little evidence that the Administration yet has the courage to take the lead with their own party on taxes (and saying very plainly that they must come up, eventually), today I look at all the snow around me feeling "stuck" and can't help thinking that "bipartisan fiscal responsibility" has about a snowball's chance in hell.