February 10th, 2010 . by economistmom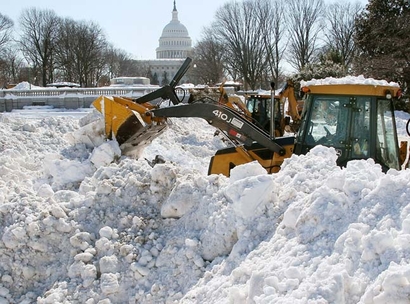 In today's Washington Post (not that I received it on my doorstep this morning, but just that I read online), Steve Pearlstein has an entertaining little rant about how ill-prepared the DC area is to handle this kind of snow:
Here's a little thought experiment:

You're sitting at home for the third straight day, unable to get to work because of the snow. Your kids are on the fourth day of a snow vacation that is likely to last through the end of the week. How much would you have been willing to pay to guarantee that the streets and sidewalks were clear and things could have run pretty much as normal? $10? $25? $50?

Or imagine that you own a business with 50 employees that is closed for three days because of the snow, but you still have to pay $30,000 in salaries for work they didn't do. What would you have been willing to pay to have things running normally this week? $1,000? $2,500? $5,000?

My guess is that, given the benefit of hindsight and several days of house arrest, "snow insurance" sounds tempting…
Steve then argues that it would be reasonable for local policymakers to consider raising revenues (i.e., taxes or fees) to pay for this more adequate "snow insurance"–but the only reason that's a fantasy is because of the "broken politics" that makes it so hard to raise taxes for any reason:
Republicans would immediate call it "the biggest tax increase in history" and declare unequivocally that it would send the economy into a tailspin while radically expanding the government. Chambers of commerce would issue news releases warning that the tax would particularly hurt small-business owners, who as we all know create every new job and would now be forced to cut their payrolls or close their doors. Virginia's House of Delegates would move immediately to kill the proposal, thereby dooming consideration by all the other jurisdictions.

It is a measure of the dysfunction of our political system that we can no longer rationally debate whether it is penny-wise and pound-foolish not to spend a little more to try to keep the Capital of the Free World from grinding to a halt every time a snowflake descends from the heavens.

I realize there are lots of problems that cannot be solved just by throwing money at them, but snow removal is not one of them. We have the know-how, we have the technology and we have the money and economic self-interest to do it right. What we don't seem to have is the leadership or political will.
Steve then goes on to do a "back-of-the envelope" calculation of how costly these lost days of work and school have been to this region, as evidence that government has not spent enough money on their snow-removal capabilities.
Yes, I agree with Steve that our local governments are ill-prepared to deal with these kinds of snowstorms.  Growing up in the Great Lakes region, I know that there are other parts of the country that do it much better and faster.
But we in DC are ill-prepared for this kind of snow, not so much because of our bad politics (I think politics over the rest of the country are just as bad, no?)–but because this kind of snow is such a low-probability event here.  Here's a chart from a WashingtonPost.com weather blog (weather-blogger Matt Rogers)–as of before today's blizzard which is supposed to add maybe a foot more!–showing the rarity of 2′+ snow seasons here in DC:
Matt puts this in perspective:
With the impending storm for tomorrow and Wednesday, we have a legitimate chance for an all-time (since records have been kept in the late 1800s) seasonal snow record.

Our big weekend storm surged Reagan National Airport's seasonal total to 45″ with the balance of February and March yet to go. This places our current winter in position number three for the snowiest winters on record, behind 1995-96 (46″) and the big one, 1898-99 (54.4″). Of course, that all-time record was set at a more downtown location (M Street), so some may argue the higher elevation and location away from the Potomac was an easier accomplishment. But in my mind, that makes this potential record season all the more notable.

The chart above tracks seasonal totals since the 1990-91 snow season. Just look at that volatility. Get this: our 45″ this season is more than the last four winters COMBINED (which was only 35.5″).
An economist would say we've got to make decisions about public infrastructure and contracted services from a cost-benefit perspective, which has to be evaluated under conditions of uncertainty–weighing expected marginal costs against expected marginal benefits.  Of course, from an "ex post" perspective (after the snow has fallen–e.g., Steve's current view), it looks like local policymakers got it all wrong and spent way too little on snow-removal equipment and services.  But from an "ex ante" perspective (before the snow has fallen or any even long-term weather forecasts have been made, maybe with the exception of the farmer's almanac) I can't imagine that any cost-benefit analysis would suggest it makes sense for the DC area to gear up for the kind of major snowfall we've experienced this week–in terms of purchasing equipment or advance contracting for services or otherwise committing to spending their budgets on something they might not ever use.
Instead, what such low-probability-but-bad-outcome events suggest is the need for local governments to have adequate "rainy-day" (ok, "snowy-day") funds in place, in order to be prepared for what this snowfall really is (in this part of the country): an unanticipated emergency.  That's where the "broken politics" messes things up, because Steve is right: we can't seem to raise taxes for any reason, especially if it is to be better prepared for the future–be it a big snowstorm or even our kids' standard of living.
***UPDATE (5 pm):  We just broke the all-time record for the snowiest season in the DC area!  Here's a new graphic from the WashingtonPost.com weather gang below.