May 31st, 2010 . by economistmom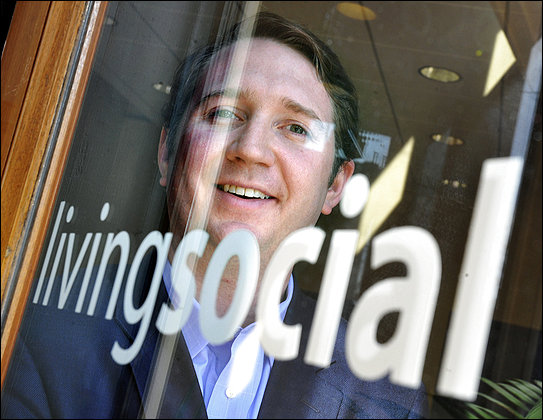 In today's Washington Post "Washington Business" section, there's the story behind "LivingSocial," an online source of half-off, 2-for-1 (or even better)-type deals toward fun activities (e.g., dance lessons, museum tours), personal grooming/pampering, and restaurant meals and other "libations."  As the Post's Thomas Heath explains:
It looks as if one Washington enterprise might have cracked the code.

LivingSocial is a start-up run by some online entrepreneurs, led by Georgetown University graduate Tim O'Shaughnessy, 28. [That's a Washington Post photo of O'Shaughnessy, above.]

The company has a simple online model: It has a deal of the day, in which participants use a credit card to buy, for instance, $50 of goods or services from a local company for $25. LivingSocial customers punch in their credit-card information and receive a code (or coupon) redeemable at the restaurant, spa or retailer participating in the offer. LivingSocial keeps 30 to 50 percent of each transaction and passes the rest to the deal-of-the-day business.
I've known about and taken advantage of LivingSocial for awhile now (I think I first found out about it via something that showed up on the sidebar of my Facebook page or maybe a WashingtonPost email?), and I love it.  It's really the new, hip "Entertainment Book," except so much easier to use and much more enticing, with its single "deal of the day," which I always look forward to opening each morning.  How many Entertainment Books have you bought for fundraisers or otherwise that sat idle on your kitchen counter because you couldn't be bothered to page through its hundreds of pages of coupons to see if what you already wanted to do was in there?  The beauty of LivingSocial is that it suggests in a very direct, "in your face" (morning in box) way that ____ (the deal of the day) is what you want to do!  And the limited time offer (one only has a day to take the deal or leave it) encourages one to contemplate and "go for it" right away–sort of the way the "Cash for Clunkers" limited time (and it turned out, limited pot of money) rebate had the effect of spurring into action anyone who might have otherwise not thought about whether they wanted to buy a new car at that moment.
If you are a DC-area resident, I highly recommend it.  It's super easy to use, involves no commitment (no membership fees), and will get you to broaden your horizons about all the wonderful variety of things the DC-area has to offer.  So go have some fun!