May 24th, 2010 . by economistmom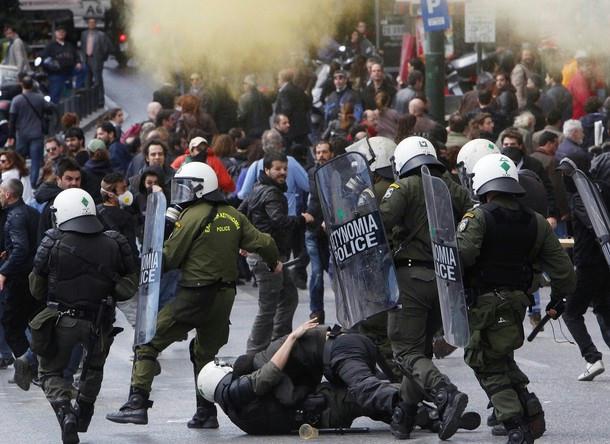 Both Bruce Bartlett and the Brookings Institution (Economic Studies directors Karen Dynan and Ted Gayer) warn this week that although the U.S. is no "Greece," we still should be worried about our fiscal situation.
From Bruce's Forbes column:
Many doomsayers believe that our fiscal profligacy will end in a bang, as happened recently to Greece and previously to many other countries. However, it's very unlikely that the U.S. would ever suffer the sort of abrupt inability to sell its bonds that triggered a fiscal crisis in other countries.

Historically, the principal cause of debt crises is that countries have borrowed in currencies other than their own. Their problems had less to do with debt per se than a decline in their currency, which made it difficult or even impossible for them to obtain the foreign exchange necessary to service their debt. This cannot be the trigger for a debt crisis here because all of our debt, including that owned by foreigners, is denominated in dollars, of which we have an unlimited supply…

[W]hat would trigger a fiscal crisis? I believe it will come from the credit rating agencies, such as Moody's and Standard and Poor's, which rate sovereign debt as well as that of private businesses and subnational governments.

For at least five years these agencies have been warning that America's AAA bond rating isn't guaranteed. Any downgrade would send shock waves throughout the entire financial system because so many bonds are priced off of equivalent Treasuries, which are assumed to have zero risk of default. Thus a rise in Treasury rates, which would necessarily follow from a credit rating downgrade, would automatically raise other interest rates…

What might trigger such a downgrade? The rating agencies have already told us what it will be: a rise in the federal government's interest payments to 20% of revenue, not spending. That is the limit of what the agencies view as acceptable…

I think it is very likely that the 20% threshold will be reached well in advance of the year 2020. And once the Fed begins tightening, forecasts of higher interest rates will also rise and become incorporated into projections of interest on the debt and the impact on federal finances. This will force the credit agencies to start making forceful warnings about downgrading Treasury debt that will begin impacting on markets long before the day of reckoning occurs.

Of course, reductions in projected deficits would change the calculation. But deficits aren't going to fall by much as long as Republicans are insistent that taxes must not be increased for any reason and they have the votes to block any budget deal containing higher taxes, as they have done repeatedly in California.

But if interest payments as a share of revenues is the key measure of debt sustainability, then waiting until the last minute to act absolutely guarantees that only tax increases will calm financial markets. It will be too late at that point to cut spending quickly enough to reduce interest on the debt. Indeed, it would require a very large surplus to accomplish that in the absence of any rise in revenues…This means that those favoring spending cuts must act now while that is still an option.
And Karen and Ted (of Brookings) express a similar mix of reassurance and warning:
The good news is that Greece's fiscal situation differs importantly from that of the United States. Greece has higher debt and a larger deficit relative to its GDP and a lack of competitiveness stemming in part from high labor costs. Greece cannot compensate for its competitiveness problem by adjusting its exchange rate because it uses the euro. Its government has embarked on a difficult fiscal austerity program, but results — aided by foreign support on realistic terms and, ideally, a stronger world economy — will take a while.

In contrast, U.S. competitiveness remains relatively high. Although the U.S. debt-to-GDP ratio is increasing, it remains well below that of Greece (86 percent as of last year). The U.S. dollar is in high demand, and if anything, concerns about sovereign debt elsewhere have increased demand for U.S. Treasury securities, thereby holding our borrowing costs down.

Even if the massive policy response to Greece succeeds in stabilizing world financial markets, there are longer-term implications of rising U.S. public indebtedness. The textbook concern is that it eventually leads to higher interest rates, which will lower capital formation and productivity, ultimately reducing economic wealth. But the financial crisis of the past two years provides further lessons. First, the government must be prepared to step in when private demand for goods and services deteriorates, but significant long-term debt will constrain the U.S. government's ability to respond to an economic crisis if required. Second, in the highly interconnected global economy, markets can respond suddenly and punitively to highly leveraged institutions. Financial markets in 2008 witnessed an abrupt loss in investor confidence, triggering runs on such financial institutions (remember Lehman Brothers?).

The U.S. government provided — and should continue to provide — critical short-term support for the still-recovering domestic economy. But to reduce the chances of future economic crises, we urgently need to show a convincing commitment to longer-term fiscal strength.
So no, we're not that much like Greece, but at the same time we're a lot more like the Greece now than the U.S. we used to be.