June 21st, 2010 . by economistmom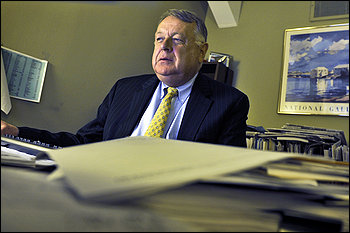 I have talked about my days on the Hill here before, and I've referred to the members of Congress who headed the Democratic sides of the committees I worked for as my "bosses."  But my real bosses were the chiefs of staff for those committees.
I opened up today's Washington Post to find a story by Mary Ann Akers about one of those bosses, Wendell Primus (pictured above, from the story) who once was the Democratic staff director of the Joint Economic Committee while I was on the staff.  He has been Speaker Pelosi's economic policy advisor ever since she's been Speaker.  This characterization of Wendell–one of the most principled and committed persons I know–rings true with how I know him to be:
With his gray hair, reading glasses and expansive lap — perfect for story time — Primus, the top policy adviser to House Speaker Nancy Pelosi (D-Calif.), is as tenacious and cunning under the surface as he is grandfatherly and polite.
And today's story on Wendell reminded me that last week Mary Ann's story was on Janice Mays, who was my boss at the House Ways and Means Committee, where she's been for 35 years!  My favorite personal story about Janice was when she offered me the job as Chief Economist and made me feel so wanted because of her warmth and charm, especially in how she kept referring to me as "Sweetie" when she would call me on the phone.  It was only after I started working at Ways and Means that I discovered that Janice called everyone "Sweetie"–including the often-hostile members of the opposing party!   (I'm convinced it's a big part of why Janice has been so successful as Chief of Staff; that southern charm is really disarming as well as engaging.)  So I knew Mary Ann had gotten the whole scoop when she wrote this:
Unless you happened to see the framed photos of Mays with lawmakers and Presidents Carter, Reagan, H.W. Bush and Clinton — even Cuba's Fidel Castro — you'd never know from a casual chat with her what power she wields. Mays's Southern-accented greetings end in "sweetie," and she's got an infectious laugh and an understated appearance.
And Janice doesn't like having her picture taken for stories about her (and would not take one for the Post story), so I won't get her upset by finding and posting one of her here–even though she'd probably just say to me "Sweetie, I wish you wouldn't have done that."