September 15th, 2010 . by economistmom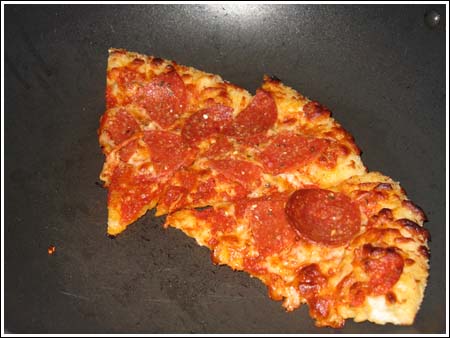 Yesterday Ezra Klein made a brilliant, foodie-that-he-is-oriented analogy between the debate over extending the Bush tax cuts–and transforming them magically into "the Obama tax cuts for the middle class"–and "making" pizza:
[P]utting the lack of planning aside, [the claim that the middle-class portions of the Bush tax cuts are Obama's policy for middle-class tax relief] won't stick because it's not true. Democrats are talking about extending the Bush tax cuts. They are not talking about expanding Obama's Make Work Pay tax cut, or putting something new in their place. Bush is getting the credit because it's actually his plan. Just because I'm the guy reheating a cold slice of Ray's Pizza on the third day doesn't mean it's now Ezra's Pizza.
I would carry that analogy still further, pointing to today's Ezra post on the Bush tax cuts, to add it's as if Ezra throws a big gourmet dinner party and serves this reheated then-Ray's-now-Ezra's pizza as the main "Ezra entree." 

(PS:  photo above is courtesy of the site "Cookie Madness" and their post on the best gourmet way, a la Cooks' Illustrated no less, to reheat cold pizza.)