September 23rd, 2010 . by economistmom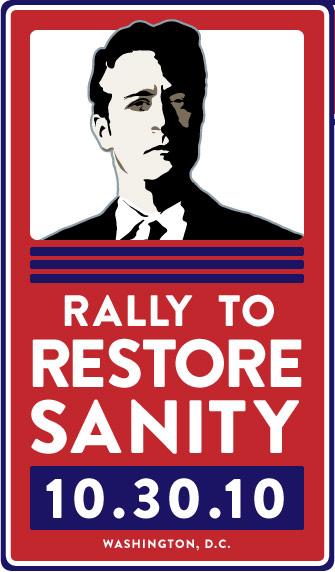 Just watched tonight's Daily Show with Jon Stewart and hope to post a video clip of it as soon as it's available–because he made fun of boring economists as well as a**hole policymakers.  (Sometimes it is indeed the other way around, as well.)  But for now I want to get to work on signs for Jon's "Rally to Restore Sanity" on October 30th.
This CNN.com column by John Avlon repeated some of the slogans Jon Stewart unveiled upon his announcement of the rally:
Among the signs [Jon Stewart] suggested for the rally:

– "I disagree with you, but I'm pretty sure you're not Hitler"

– "9/11 was an outside job"

– "Got Competence?"

– "I'm not afraid of Muslims, Tea Partiers, Socialists, Immigrants, Gun Owners or Gays … but I am scared of spiders."

– "Take it Down a Notch For America"
Here are a few of my own (Economist Mom) ideas:
–"My parents got more goodies from the government, and all I got was this stupid sign to hold (and the bills to pay)."

–"I'll protect my kids over my Social Security benefits." …and its companion:

–"I love my kids more than my tax cuts."

–"Be a Radical: Prioritize."

–"Act Like An Economist: Weigh Costs Against Benefits" (well, of course, that's pretty boring, so…)

–"Be a Good Mom: Pay for Your Own S**t So Your Kids Don't Have To."
Please submit your own ideas in your comments!  The Concord Coalition doesn't have the budget to actually print up signs like these, but who knows?…Maybe you'll find me sitting along the sidewalk w/ poster boards and paint! 

(Late addition: go here for some funnier ideas gathered by people who are actually humorous for a living–as opposed to just being economists or moms for a living.)