November 20th, 2010 . by economistmom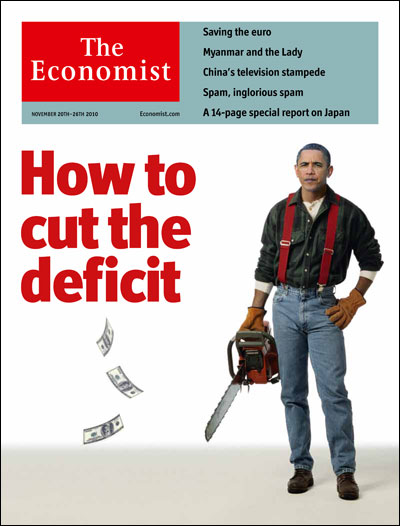 This week's (Nov. 20th) Economist magazine is devoted to the issue of deficit reduction in the U.S. federal budget–or as they put it in the title of their "leader" story, how to "speak softly and carry a big chainsaw." The editors make the point that deficit reduction isn't hard in mathematical theory, but it seems near impossible in political practice–at this moment, at least.  But they end their assessment on a somewhat optimistic note, not very different from my feelings on the prospects for changing course:
Devising a plan that reduces the deficit, and eventually the debt, to a manageable size is relatively easy. Getting politicians to agree to it is a different thing. The bitter divide between the parties means that politicians pay a high price for consorting with the enemy. So Democrats cling to entitlements, and Republicans live in fear of losing their next party nomination to a tea-party activist if they bend on taxes. Even the president's own bipartisan commission can't agree on what to do.

But true leaders turn the hard into the possible. Two things should prompt Mr Obama. First, the politics of fiscal truth may be less awful than he imagines. Ronald Reagan and Bill Clinton both won second terms after trimming entitlements or raising taxes. Polls in other countries suggest that nowadays tough love can sell. Second, in the long term economics will tell: unless it changes course, America is heading for a bust. If Mr Obama lacks the guts even to start tackling the problem, then ever more Americans, this paper and even those foreign summiteers will get ever more frustrated with him.
And here's the Economist's longer story on this issue which includes comparing the Bowles-Simpson co-chairs' proposal with the Bipartisan Policy Center's proposal, with this other nice graphic to celebrate "turkey day."