April 10th, 2011 . by economistmom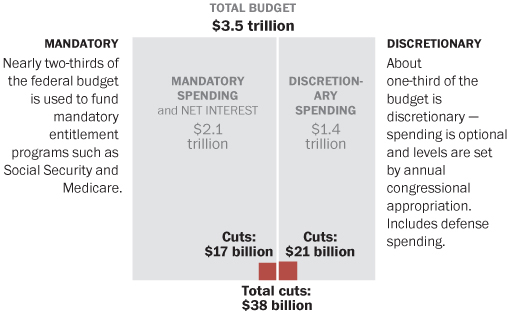 OK.  So our leaders finally came to a literal "eleventh hour" agreement to narrowly avoid a government shutdown–an agreement to cut $38 billion from the remainder of this fiscal year's federal budget.  To put that cut in perspective, the Washington Post made the graphic above.
In his weekly address, President Obama is proud of this just-latest demonstration of "bipartisan compromise" (emphasis added):
Last night, after weeks of long and difficult negotiations over our national budget, leaders of both parties came together to avert a government shutdown, cut spending, and invest in our future.

This is good news for the American people…

This is an agreement to invest in our country's future while making the largest annual spending cut in our history. Like any compromise, this required everyone to give ground on issues that were important to them.  I certainly did…

Reducing spending while still investing in the future is just common sense.  That's what families do in tough times.  They sacrifice where they can, even if it's hard, to afford what's really important.

A few months ago, I was able to sign a tax cut for American families because both parties worked through their differences and found common ground.  Now, the same cooperation has made it possible for us to move forward with the biggest annual spending cut in history. And it's my sincere hope that we can continue to come together as we face the many difficult challenges that lie ahead – from creating jobs and growing our economy to educating our children and reducing our long-term deficits.

That's our responsibility. That's what the American people expect us to do.  And it's what the American people deserve.
This "biggest annual spending cut in history" is the $38 billion out of the $3.5 trillion just-annual budget (or just above 1 percent), as shown in the graphic.  And as unimpressive as this picture is, it still leaves out both the budget outlook beyond this year (which is not getting any better) and the entire "other side" of the federal budget–the revenue side.  But of course, the revenue side of this issue is even uglier and more hypocritical than the (direct) spending side is.  "Compromise" has been both sides getting the tax cuts they want (as in the lame-duck extension of the fiscally-irresponsible Bush tax cuts that the President still boasts about).  The necessary "tough choice" of actually raising revenue to actually reduce the deficit is rejected as the flip-side "largest tax increase in American history" that has always been treated as something completely different from the "largest spending cut in American history"–even though if revenues were raised by reducing tax preferences ("tax expenditures"), it would fundamentally be the same.
As one of the Post's headlines says, "bigger battles…loom."  How this first battle turned out is nothing to be impressed about but should only leave us more worried about the capacity of our "leaders" to actually lead in those much bigger budget issues now at the top of their to-do list.