April 1st, 2011 . by economistmom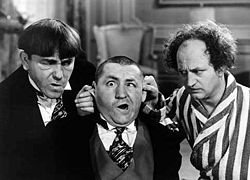 My boss at the Concord Coalition, Bob Bixby, offers a very unique perspective on how the budget process is going, suggesting it goes beyond "childish."  (In fact, Bob and I have often remarked to each other that we're sure that real kids could outdo the adults in providing some pretty common-sense–and not just cute–suggestions on how to solve our budget woes.)  Bob's set-up for the "Stooges" analogy (check out the video that goes with the blog post for Bob's further explanation):
Moe, Larry and Curly are fighting in the back seat of the car. No one is in the driver's seat. As the boys settle down, Curly looks up and says, "Hey, don't look now but we're about to be killed."

Leave it to The Three Stooges to provide the perfect metaphor for what passes as a budget debate in Washington these days.

It appears that we're headed for a government shutdown in April and a possible default in May all because politicians can't stop squabbling over a few billion dollars from a small slice of the budget while our overall fiscal policy is headed for a cliff.
I'm not familiar enough with the Stooges' individual personalities to figure out which of our leaders correspond best to each of the Three Stooges.  Any Three Stooges aficionados out there who also have been paying attention to how our leaders have been behaving in these debates?  Who is Moe?  Who is Larry? And who is Curly?
Oh, and how fitting… it is April Fools' Day, after all!