August 5th, 2011 . by economistmom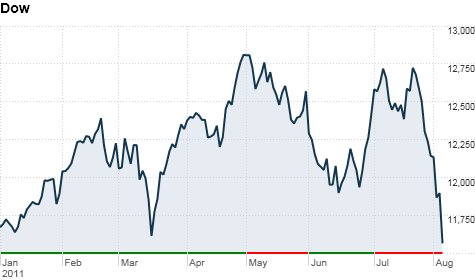 (Chart from CNN-Money)
Back at "home" with the real-world economy, right now…
Like many policywatchers, Ezra Klein wonders if we're running out of policy tools to combat the right-now threats to the U.S. and global economy:
Washington likes to talk about the economy in terms of things it can control. Spending and deficits. Stimulus. Policy uncertainty.

But the Dow Jones industrial average isn't diving because spending has risen, deficits have grown or stimulus policy has changed. It's diving because of forces Washington can't control, and in many cases, doesn't understand very well…

Washington just spent two months arguing over whether it would pay its bills or spark an unnecessary financial crisis.

Congress resolved that question this week, and the markets are tanking. Which suggests that Washington is asking itself the wrong question.

The right question is simple enough: Where will the recovery come from? The problem is that no one has an answer. And as one hopeful hypothesis after another is dashed, the markets are beginning to panic.
It might seem as if the government's fiscal policy hands are tied in terms of addressing any short-term fragility, given that all we've be talking about over the past several months is how to reduce (not increase) the deficit–and that even with the continued weakness in today's economy, no one (not even liberals who scream that focusing on deficit reduction is clueless or even evil) is suggesting that the bleak longer-term fiscal outlook doesn't have to be addressed very soon with at least a plan that starts to steer us in a better direction.
Is new fiscal stimulus not at all a possibility, given that the country will have "no appetite" for more deficit spending?  I think adding to the level of short-term deficit spending would be hard if not impossible, politically.  But economically, it's not a bad constraint to have, because it would make for an overall better fiscal policy if the federal government were forced to stick to a certain level of deficit spending devoted to "stimulus" (encouraging demand for goods and services) and made sure that any projects, transfer payments, or tax cuts funded by this limited pot of deficit-financed stimulus money were those that "won the contest" for "highest bang-per-buck."
I'm suggesting that budget constraints are tough these days, given our concerns about the longer-term outlook.  We start to fail on the goal of "overall better fiscal policy" whenever we let deficit-financed policies in the door in the name of "stimulus" but then let them hang out with us more permanently even when they've worn out their welcome and eaten us out of house and home.
Could we consider a deficit-neutral swapping out of low bang-per-buck deficit-financed "stimulus" policies–whether spending or tax cuts–for a swapping in of higher bang-per-buck policies, those policies most likely to encourage immediate business and consumer demand for goods and services (and hence jobs)?  We can go back to this analysis by CBO that reminds us what works and what doesn't.  (Hint:  tax cuts for the rich are at the bottom of the list; see Table 1 on page 22.)
Could we even consider combining shorter-term and longer-term economic goals by steering some of that high bang-per-buck spending toward areas of the economy that would be good for our longer-term fiscal sustainability as well?  Remember, "sustainability" has two sides:  keeping deficits under control, yes, but also making sure our economy is growing in a healthy way.  Are there fiscal policies that could immediately stimulate the economy but also leave us on a path to better support the human capital accumulation and economic capacity of younger generations (through education, health care, environmental quality, etc.)?
Wouldn't it be nice?