December 27th, 2011 . by economistmom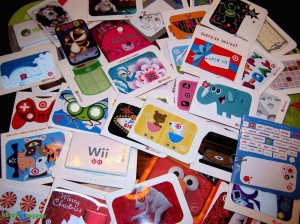 Before Christmas, Matthew Yglesias had this nice "economist's guide to giving Christmas presents" in which he urged gift givers to get the most "bang per buck" by being both redistributive (not just reciprocal) in gift giving and taking risks by actually choosing a gift (avoiding the economist's tendency to opt for cash for efficiency sake).
A few days ago (pre-Christmas) I felt like writing my Economist Mom corollary to Matthew's column; I wanted to put in a plug for gift cards.  But I got too busy.
So, for the record (and as my advice for your future gift giving occasions), here are a few reasons why this economist and mom does not view gift cards as a "cop out" gift:
A gift card to anyone is at least slightly more thoughtful than cash as long as one gives some thought to the selection of the merchant as having some correlation with the gift recipient.  It shows you made the effort to think about what the gift recipient might need/want and took the time to purchase the gift card (at least a tiny bit harder than visiting the ATM).
From a mom's perspective, giving gift cards to the kids is a perfect compromise to satisfy one's urges to control the kids' consumption (steering them toward particular merchants at least) while letting the kids to do their own fine-tuning.  It's a great "maternalistic" alternative to giving cash.
The "bang per buck" of the gift card is maximized when Christmas gift cards are redeemed at post-Christmas sale prices.
Buying those gift cards before Christmas, even if they aren't redeemed until after Christmas (or ever, actually) still contributed to economic activity when the cards were purchased.  It's good stimulus even if the cards for pre-paid goods and services are never transformed into the actual goods and services.  (The purchase of the gift card itself is effectively purchasing the "service" of postponed explicit goods and services.)  In fact, businesses don't seem to mind if you never redeem the gift cards and just end up giving them money!  But as a good gift-giving economist, if you care about overall welfare/utility maximization and not just business profits, you really should urge your recipients to use their gift cards before they lose them.
So maybe you can figure out where the bulk of my spending on my gifts to my kids went this year.  I'm spending the next few days driving them to the particular stores and advising them on their online shopping.
Hope you all have happy holidays.  Now go use your gift cards!