October 31st, 2012 . by economistmom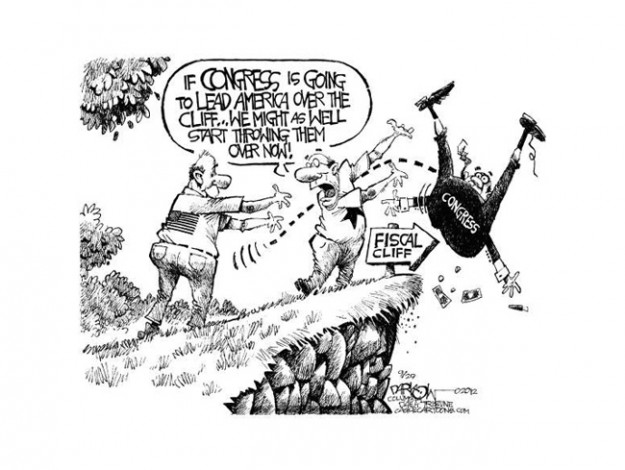 (Cartoon by John Darkow and Cagle Cartoons, obtained from theweek.com.)
Last week former Senators Pete Domenici (R-NM) and Sam Nunn (D-GA), in the Washington Post, urged policymakers to "build" a "better" fiscal cliff.  As they explain:
Most pundits believe that, rather than go over the cliff, Congress will kick the can down the road during the lame-duck session after Election Day. We suggest that the lame-duck Congress should change the "can" before it is kicked.

Such a strategy has several advantages. First, it could avoid the worst effects of the fiscal cliff without ignoring our fundamental fiscal challenge, the unsustainable mismatch between spending commitments — largely for health-care programs — and current revenue projections. Absent more constructive action, simply postponing when we go over the cliff could hurt business confidence, worry investors and lead to another disruptive debate over raising the debt ceiling.

Second, it is politically achievable. While it is unlikely that a grand bargain to fix the debt could be reached during the lame-duck session, Congress could accomplish replacing the fiscal cliff with broad targets for deficit reduction along the lines of Simpson-Bowles and Domenici-Rivlin, to take effect if no other deal is reached.

Third, this strategy would increase the likelihood of reaching a comprehensive budget deal. If we learned one thing over our many years of service in the Senate, it is that elected officials require political cover on difficult votes.

Enacting such a deal means that Democrats have to be willing to consider reforming — over time — Medicare, a key driver of U.S. deficits. Republicans will have to consider raising revenue through reducing tax expenditures, if not through higher rates. Neither will be an easy vote to cast.

Changing the can before kicking it would allow lawmakers to explain to constituents that, while they don't like everything in the deal, it is far better than going over the fiscal cliff. In this context, a vote to substitute a rational compromise would be a vote against recession, major tax increases, mindless spending cuts and diminished American influence abroad.
Now, we have set deficit-reduction targets before, but those have merely served as the big "kick me" targets on the fiscal cans that are kicked.  Why would a particular configuration of tough choices, such as Simpson-Bowles or Domenici-Rivlin be adopted when Congress has had trouble enough achieving less-ambitious plans?
If the goal is something as "grand" or "big" as the recommendations of the fiscal commissions, I think there has to be a credible default option that is procedurally easy to implement and enforce.  That's where I think it's time we hold our politicians to the laws they have passed in the past–i.e., literal current law with tax cuts that actually expire and spending cuts that actually take effect.  I think of this as the "benign neglect" or "go home" option, because Congress could go (or stay) home and not pass any new tax or spending legislation, and then current law would be forced to literally play out.
The Congressional Budget Office has "scored" this default option time and time again, because it's called the "current law baseline." And they've noted that although the first year of this current law baseline is known as the (dreaded) "fiscal cliff"–because the around $500 billion of deficit reduction between this year and next is too much for our still-fragile, still-demand-constrained economy to take–the latter half of the current law baseline in the later years of the ten-year budget window gets us to an economically sustainable level of deficits and hence a stronger supply-driven economy.  So CBO has warned (in their outlook report as well as an earlier one specifically dealing with the fiscal cliff) that the first year of current law needs to be avoided, but current law further down the line is a good thing.
The only way to shed the bad but keep the good is to "substitute the can" as Senator Nunn has characterized it during the "Strengthening of America" events that the Concord Coalition co-sponsored.  I've called it "recycling" the fiscal cans.  The point is that we can't just throw the current-law baseline away just because we don't like the first part of it.  And throwing away scheduled tough choices has become too habitual for our policymakers, because it's just so easy and so seemingly free.  (Why have to propose future spending cuts or tax increases, when continued deficit financing is an option that finds bipartisan support?)  That's why I think the public must not allow a mere kicking of the fiscal cans once again; they must pressure our policymakers to simultaneously (at the time of the can kicking) adopt a "tough choices or else" commitment (for policies in the ten-year window) to be set within the next six months to a year where the "or else" part is something even tougher but credible and "easy" to implement.  And what could be easier than current law?
Current law is not a bad "default option"–at all.  At a conference last week at Tulane University, I argued that current tax law (the bulk of what makes current law a huge deviation from "business as usual" current policy) would do pretty well by the three goals the conference dubbed a "fiscal trilemma"–economic growth, deficit reduction, and "progressivity" (the vertical equity of the tax system):
Marginal tax rates certainly tolerable from supply-side perspective, and tax increases not contrary to short-term stimulus if delayed (and given distribution of expiring cuts);
Achieves revenue levels consistent with economically-sustainable deficits over next 10-20 years; and
Increases progressivity of federal tax system (is a pretty good execution of the "Buffett Rule" principle–that millionaires should have average tax burdens exceeding those of middle-income households).
And on a sidenote… I have to confess my huge (and I guess cynical) fear about the currently growing bandwagon of support for "fiscally responsible" policies which I hope does not come true:  that many of the CEOs and politicians clamoring for better leadership to "fix" the "fiscal cliff" issue (or even to "Fix the Debt") are motivated mostly by their desires to avoid the tax increases and spending cuts comprising the (one-year) fiscal cliff.  "Fiscal responsibility" currently means not allowing our country to go off the cliff, because it could put us back into recession.  But once the immediate can has been kicked to avoid the first-year part of the cliff, and once our economy gets back to full employment, will the enthusiasm to (really) "fix" the debt problem continue, when the time has come when there are no longer the economic excuses to avoid tax increases and spending cuts, but only the obvious, glaring economic reasons to start accepting them?  I do hope so, but I worry, too.
All the more reason for the public to demand not just that we "fix the debt" right now (which could just mean "kick the can"), but that we "fix the debt" even after the election and even after the economy gets back to needing the policy actions formerly known as "fiscally responsible" deficit reduction.