May 3rd, 2008 . by economistmom
(updated photo, fall 2010)
About EconomistMom.com (this blog)
EconomistMom.com was launched on Mother's Day 2008 (5/11/08). It is a place "where analytical rigor meets a mother's intuition"–where honest math and sound economics is communicated in a way that makes common sense and is relevant to our daily lives. The issues we will discuss here will span a wide and unusual range as suggested by the blog's title–from "do deficits matter?" (yes) to "can I get my family life in perfect order?" (no). Among the broader policy issues there will be a particular focus on the economics of fiscal responsibility, with the hope that this blog will be part of a newly effective, "grassroots" movement involving ordinary American parents and grandparents, encouraging our policymakers to "do the right (fiscal) thing" for the sake of our children and grandchildren.
About "EconomistMom" (this blogger)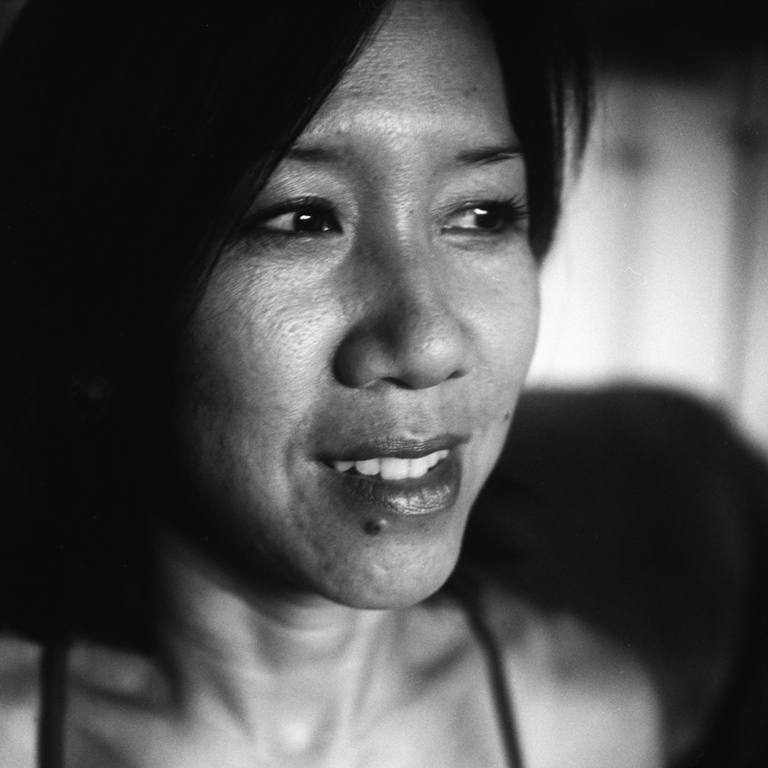 I'm Diane Lim (just Lim as of fall 2012, formerly Rogers), I am a "younger baby boomer" (born in 1962)–and I am (an) "EconomistMom." (I know many other EconomistMoms.) My first post, a guest column that appeared in the Mother's Day issue of the Seattle Post-Intelligencer, tells a lot of my recent history (or "her-story"?): EconomistMom.com is a long-time dream of mine that my new employer, The Concord Coalition, has made possible, and even has encouraged.
EconomistMom: I started working as an economist nearly 25 years ago (under the Reagan Administration!), and have been working continuously and full-time as an economist for about 20 years. I have three economics degrees, from U. of Michigan (BA, 1983), Brown University (MA, 1984), and U. of Virginia (Ph.D., 1991). I've worked in a variety of places, including academia (Penn State University), think tanks (Urban Institute and Brookings Institution), and the executive and legislative branches of the federal government (Council of Economic Advisers, Congressional Budget Office, Joint Economic Committee, House Ways and Means Committee, and House Budget Committee). It was during my year on the staff of the Council of Economic Advisers, working on the last Clinton "Economic Report of the President," that I got turned on to the issue of fiscal responsibility. At the time I was already a mom of four kids, which sharpened my interest in the issue.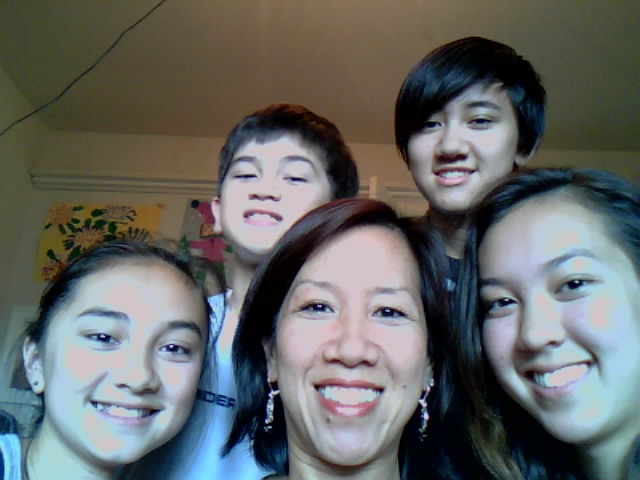 EconomistMom: I'm the proud mom of four amazing kids–three daughters (born 10/1991, 3/1993, and 10/1996), and a son (born 7/1998). (Photo above is from the summer of 2008.) I am going to have to figure out how I can brag about them on this blog without embarrassing them. My kids have their own unique interests and (high) talents, and our home life is unbelievably busy.  (We have a bit of a menagerie of pets at home, too.)  It's expensive having such a full and diversified household, but there is a "richness" to it that is well worth the price.  I enjoy telling stories (and will tell many here) about the happy chaos at home.
UPDATE - November 2011:  And here are me and my kids today!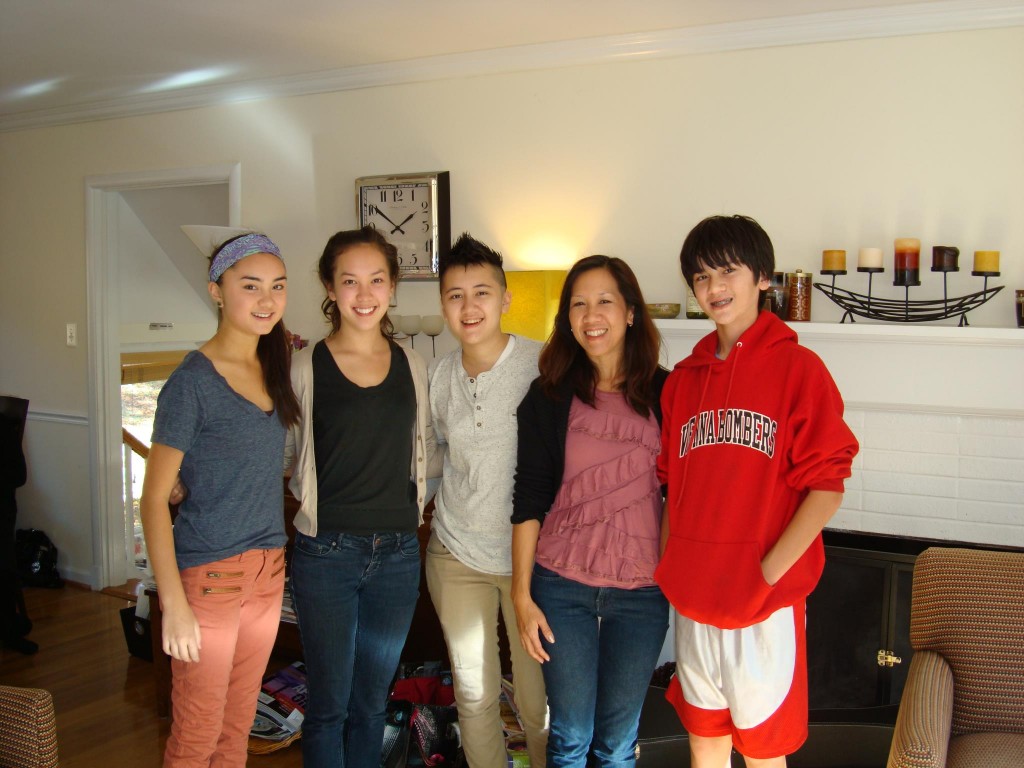 About The Concord Coalition (EconomistMom's employer)
So if you read my opening post, you'll know the story of how I ended up at The Concord Coalition. I just started here on April 28, 2008. You can read the official explanation of what is/who is The Concord Coalition on the Concord website: www.concordcoalition.org, but basically Concord is a group of people devoted to the cause of fiscal responsibility. We are a small group but cover big territory–working a "grassroots" advocacy strategy to encourage thoughtful, fiscally-responsible policies "from the ground up."
Concord used to practice its grassroots strategy mostly through "field staff" who were spread across the country and would give individual talks and pass out lots of paper (pamphlets and issue briefs). Then almost three years ago, Concord started the "Fiscal Wake-Up Tour," which has involved a small team of policy experts from different organizations and spanning the political spectrum, who all agree that the current fiscal path is unsustainable and that countervailing actions are needed sooner rather than later. Well, it so happens that the Fiscal Wake-Up Tour has not only moved the Concord message off the pamphlets and into the popular press (magazines, radio, TV), but has recently "gone Hollywood"–in a good way–as the central focus of a new (and I think brilliant) documentary film, "I.O.U.S.A.". The film has been shown at Sundance and other film festivals and stars Concord Executive Director, Bob Bixby, and former Comptroller General of the U.S., David Walker–two of the regular stars on the Wake-Up Tour. So suddenly Concord's work seems a lot less honorable-but-dweeby and a lot more honorable-and-hip.