April 1st, 2010 . by economistmom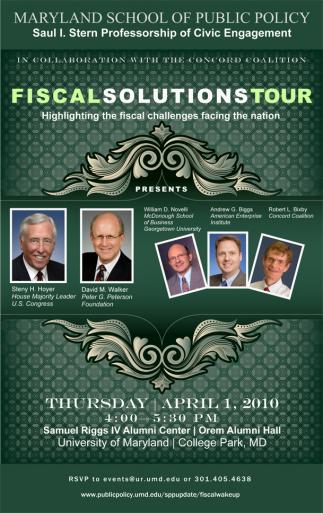 No longer is Concord in "wake up" to fiscal reality mode–we are trying to discuss "solutions" now.  Today's event at the University of Maryland, with House Majority Leader Steny Hoyer, is a prime example.  (You've heard how much I admire "Steadfast Steny" before.)
As the Concord announcement explains:
Date and Time:

Thursday, April 1, 2010 - 4:00pm - 5:30pm

Address:

University of Maryland
Samuel Riggs IV Alumni Center
Orem Alumni Hall
College Park,
Maryland

The Concord Coalition and the University of Maryland School of Public Policy's Saul I. Stern Professorship of Civic Engagement will be hosting the Fiscal Solutions Tour on Thursday, April 1, 2010 at the Samuel Riggs IV Alumni Center on the Unviersity of Maryland campus in College Park, Maryland.  This public discussion about our nation's fiscal future will feature United States House of Representatives Majority Leader Steny H. Hoyer.

There will be panel discussion featuring:

David M. Walker, former Comptroller General of the United States and President & CEO of the Peter G. Peterson Foundation

Robert L. Bixby, Executive Director of The Concord Coalition

William D. Novelli, former President of AARP, and Professor at the McDonough School of Business at Georgetown University

Andrew G. Biggs, former Principal Deputy Commissioner of the Social Security Administration, and Resident Scholar at the American Enterprise Institute

This panel of nationally recognized experts will discuss the urgent need to address our nation's unsustainable fiscal outlook and propose potential solutions.

For more information click here: http://www.publicpolicy.umd.edu/sppupdate/fiscalwakeup.
And note the event will be live-streamed (we hope) from this page.  Please tune in if you can't join us in person!