January 10th, 2013 . by economistmom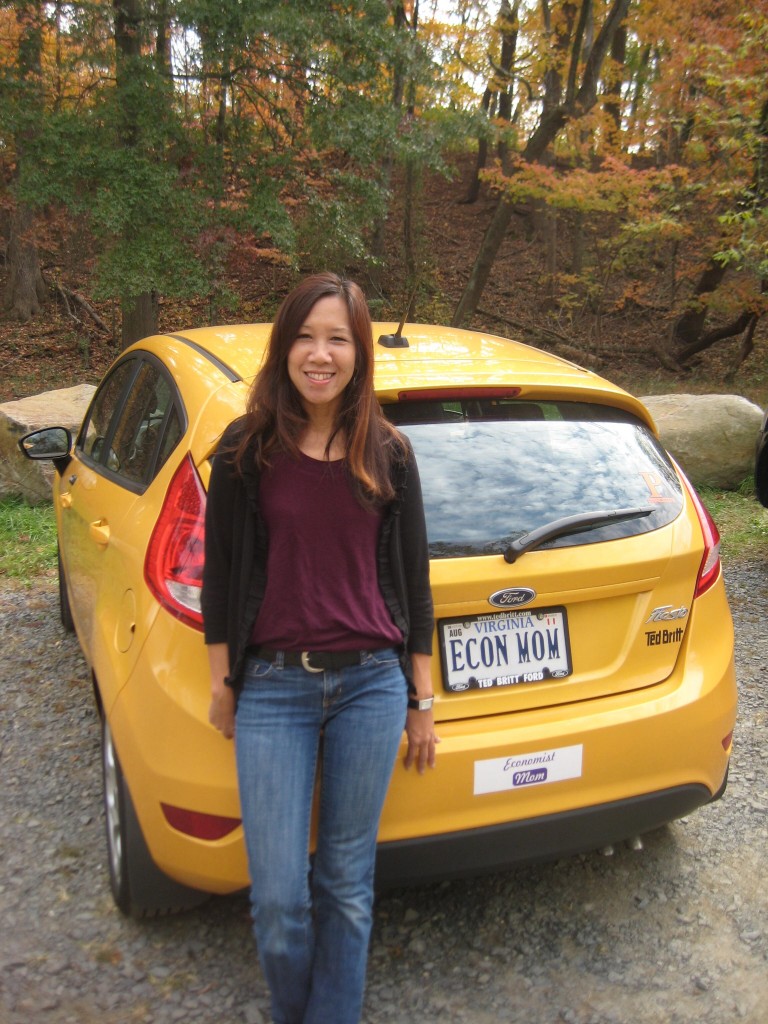 After 4 and 3/4 years and 932 posts (counting this one), I'm putting down my pen as "the EconomistMom" (capital-E, capital-M, smooshed together) and going back to being (more ordinarily) just (an) economist mom.  (I think in my older (i.e., younger) days I would have been anal about it and set a target of ending at the 1,000th post mark.)
I'm leaving (technically, have already left) the Concord Coalition–where I have worked the whole time I've been writing this blog–and joining the Pew Charitable Trusts as their new chief economist on February 4.  This move allows me to look beyond the almost-exclusively federal budget focus I've had for the past dozen-plus years, to support Pew's much larger umbrella of public policy issues at all levels of government and across a wide variety of subject areas–a mission and agenda which nevertheless can still be summarized as one promoting "fiscal responsibility" by using our scarce economic resources as wisely as possible to maximize the well being of our society.  As the Pew website ("about us") explains:
The Pew Charitable Trusts is driven by the power of knowledge to solve today's most challenging problems. Pew applies a rigorous, analytical approach to improve public policy, inform the public and stimulate civic life.

We partner with a diverse range of donors, public and private organizations and concerned citizens who share our commitment to fact-based solutions and goal-driven investments to improve society.
I'm so grateful to the Concord Coalition for making this blog possible.  My experience writing it and interacting with my readers has taught me many things, not just about economic policy issues as I'd use it as a "sketchpad" of sorts to test out my first numerical calculations and analytical interpretations, but also about my personal life, as every day (usually late night actually) I would sit down alone with what felt like a blank canvas (and not just the empty Wordpress shell) and ask myself "what's on my mind?"…"What do I want to say?"…"Who is listening?" I had never really taken the time and space out of my crazily busy life-at-the-surface to look down deep at myself.  I had never really kept a personal diary since becoming a grown up, either.
It turns out I didn't really learn that many brand new things about fiscal policy, but I learned them better this time around in trying to communicate the ideas to the more general audience (I hoped) of my blog.  I learned a lot more about the politics of what I had thought were more clear-cut, plain economic issues, too.  For example, I learned that one cannot advocate reforming the Social Security system without being accused of trying to destroy the program, and that one cannot advocate raising taxes without being accused of trying to destroy the economy.  (By the way, neither is true about me:  I want to strengthen both the Social Security program and the economy.)  I learned that when it comes to these very tough public policy issues, politicians would rather keep fighting over small stuff (and even attack each other personally) than acknowledge that they agree on the big (but hard) stuff.  Because then they would be out of excuses and would just have to do it–that hard, tough (but good-for-all-of-us) stuff.  I learned that if people commenting on my blog seemed very critical of me, personally, in response to a policy opinion I made that they didn't like, I should nevertheless not take it personally.
I learned much more about myself and my own life in writing this blog though.  Readers wouldn't have necessarily followed much of that unless you actually knew me in real life and thus could read between my lines as you observed the changes in my personal life.  Some who did think they could see between the lines chose to publicly criticize me by posting public comments here, like the time a former sister-in-law, in comments on a post I had written about college decisions, wrote very candidly (posting her full name and work email) that I was a "fraud," told me to "shut up already" and suggested–in the ultimate of hurtful things one could say to a mother–that it was "as if" I would ever do anything for any of my kids.  Well, I eventually learned that I should not take those comments personally either.  (Those were also one of only a handful of non-spam comments that I censored (removed) from public visibility but kept in perpetual "pending" status as a reminder that nasty words usually say more about the author than about the subject/target.)
I could have let out more of my personal details here as a very public form of my personal therapy (I do like and need to talk and "get things out"), but that would have been unfair to the real-life people in my real life.  But suffice it to say, the process of writing my blog has been a marvelous vehicle in my long personal journey of self-discovery over the past 4 3/4 years, and it has led me to a better and happier place.  Someday when my life at the surface is not so busy and I'm not working to pay my bills (and my kids' college bills–obviously not anytime soon), I hope to write down my story.  But not here, and not now.  In the meantime, I will keep mindful of a pearl of wisdom attributed to the Dalai Lama (with my insertion):
"Live a good, honorable life.  Then when you get older and think back [and maybe finally write it down!], you'll be able to enjoy it a second time." 
I am a tremendously lucky person to be able to make a living doing the kind of "work" that I love to do and to have the support and love of my friends (especially my boyfriend, Bill) and family (especially my parents, Ed and Bee Lim, and my kids).  I hope I can pay some of that back but, more importantly, pay some of that forward.  And speaking of that, I'd like to end with something that's more from my "mom" perspective than from my "economist" perspective, so I'm going to quote a wise, mature mom rather than any book-smart economist.  From Anna Quindlen's book "Lots of Candles, Plenty of Cake," which I've just started listening to on my car rides (and love, love, love it already, just a few chapters in!):
"Being a parent is not transactional. We do not get what we give. It is the ultimate pay-it-forward endeavor: We are good parents not so they will be loving enough to stay with us but so they will be strong enough to leave us."
That's my kids, my dogs, and me below–in a photo taken around Thanksgiving.  (L to R:  Emily, 19; Grace, 16; me, 50(!); Johnny, 14; Allison, 21.)  They are great kids, growing up fast, two already in college, all of them seemingly ready to leave me already.  (The dogs–Tammy on left and Taco on the right–well, they likely won't ever leave my side until death do us part.)
It's been fun!  Thank you for reading and coming along for my ride, especially those of you who have visited here daily for years.  EconomistMom signing out for now!
Sincerely,
Diane Lim (formerly Rogers)

(an economist and a mom)